VACCINE VERIFICATION
Due to requirements set by the Indian Wells Tennis Garden all attendees are required to show valid proof of full vaccination with a digital vaccine card via the CLEAR app. Please note that children under 12 years of age will not be permitted entry. To create your digital vaccine card, follow the instructions HERE
DIGITAL TICKETING
All ticketing will be done through The AXS Tickets App. The AXS Tickets App will automatically sync with your AXS account. Be sure you log in with the same email address you registered with AXS to purchase your WTT tickets and parking passes.
Transferring Tickets: A ticket transfer allows you to digitally give each guest in your party their own ticket via AXS Mobile ID. With seat transfers, you no longer need to worry about delivering the paper tickets to them in advance or meeting them outside of the gates to walk in together. There is no fee for transferring seats and you are allowed unlimited transfers.
Your guests will need to create an AXS account to receive tickets. Guests can transfer the tickets back to you if they can't attend or you can cancel the transfer if they have yet to set up their AXS account. If they already have an AXS account set up the tickets will go in their account automatically.
Here's how it works:
Click the Transfer button next to the ticket in your AXS account.
Select the tickets to transfer and enter the recipient's information.
On the review page, click the Transfer button to send the tickets.
The recipient will get an email about the transfer, and they'll need to create an AXS account (if they don't have one yet) to complete the transfer. After that, the tickets will be theirs to use with the AXS app.
Re-Selling Tickets
AXS Official Resale is the best way to sell your seats because it is the official marketplace endorsed by the venue. Tickets purchased through unofficial sources (such as Craigslist, StubHub, etc.) may not be valid.
Here's how it works:
Click the Sell button next to the event in your AXS Account.
Select the tickets to sell, and then set your price and selling options.
On the Review page, click the List Tickets button to finish.
When your tickets sell, you'll receive an email informing you of the sale. The tickets will be delivered to the buyer automatically. You'll be able to transfer money to your bank from your account on AXS.com.
PARKING
All WTT parking  is accessed from Washington Street through Gate 2 on the East side of the venue.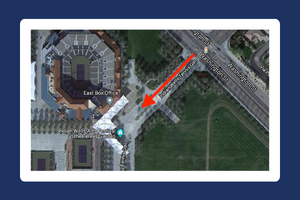 CLEAR BAG POLICY
For a smooth entry into the Indian Wells Tennis Garden, fans are asked to review the following guidelines to ensure that their bags will be permitted into the venue:
Each fan may carry one bag that is clear plastic, vinyl, or EVA no larger than 12" x 6" x 12" or
A one-gallon clear plastic freezer bag (Ziploc bag or similar)
In addition to one of the clear bags noted above, guests may also carry in a small clutch bag or purse no larger than 4.5″ by 6.5", with or without a handle or strap
Exceptions will be made for diaper bags and medically necessary items after proper inspection and Management approval
CASHLESS VENUE
Indian Wells Tennis Garden is cashless! All major digital forms of payment are accepted, including Apple Pay, Google Pay, Debit Cards, Visa, MasterCard, and American Express. Cash payments will not be accepted.