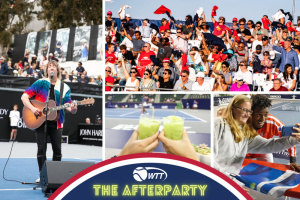 Introducing the $WTT World TennisToken & the Afterparty
World TeamTennis is excited to announce the founding of the Afterparty – a community where
our most dedicated WTT fans can keep the Game, Party, Match going all year long. The
Afterparty provides exclusive access to WTT, its teams, coaches, and players like you have
never seen before.
World TeamTennis is also excited to announce the launch of the $WTT World TennisToken,
which is your ticket to Afterparty membership. $WTT is a first-of-its-kind social token – the likes of
which have never been done before by a professional sports league
Afterparty exclusive benefits will develop over time. Initial plans include:
• Premium behind the scenes content.
• Pre-Sale Access, discounts, and free tickets to World TeamTennis, All-Star Match, and
other events.
• WTT player virtual and in-person experiences.
• Limited Edition merchandise.
• Exclusive WTT commemorative NFT's.
What is $WTT and how do I use it?
The World TennisToken will be a way for our fans to interact with WTT year-round. $WTT will
enable fans to participate at a much deeper level during our Season, All-Star Matches, and for
the first time in 46 years, during our off season as well.
By holding any amount of World TennisToken, you will be considered a part of the Afterparty
which will give you access to exclusive content and other benefits. $WTT can also be spent to
redeem physical goods, tickets, NFT's, and other exclusive items that World TeamTennis will
release specifically for Afterparty members.
How do I get $WTT?
Rally makes it very easy to purchase World TennisToken with any major credit or debit card
once you create your account.
All you have to do is:
• Register for an account at rally.io
• Visit the World TennisToken page here: https://rally.io/creator/WTT/
 That's it! You can purchase as much $WTT as you'd like, but all you need is one (1) to be a part of the Afterparty
The Afterparty fan club and $WTT World TennisToken are our ways to celebrate YOU, WTT
fans, for all your support throughout these 46 seasons. You are the reason we have made it this
far and we can't wait to continue with you all into the future.
Subscribe to our emails (you can do so at the bottom of this page) and stay tuned to our social media channels for future FREE $WTT drops!
THANK YOU!