When Sloane Stephens' Chicago Smash made their WTT debut in July of last year, the world — and World TeamTennis — looked a lot different than ever before. Playing in a pandemic "bubble" at the historic Greenbrier resort in front of a maximum 20 percent capacity crowd, players, including Stephens, found themselves in a unique environment both on and off the court, with strict protocols to ensure the safety of everyone playing, attending, and enabling the season to resume after most of the world hit the pause button the previous spring.
However, when the 46th season of World TeamTennis kicks off this November, it will be in the 8,000-seat Stadium 2 at Indian Wells Tennis Garden. Once again, an entire season of matches for all five teams, including the returning Chicago Smash, will be played in a single location, but this time, they'll be ready to play for a full capacity crowd in a veritable tennis mecca in the heart of the Southern California desert. It's surely a relief to fans and players alike to inch closer to business as usual, but Stephens admits, the 2020 season brought some unexpected perks, too.
"Last year's bubble environment at The Greenbrier really brought everyone together and it felt like what I imagine playing college tennis might be like since we were all living and playing in one location for so many weeks," says the 2017 U.S. Open champ. And, despite the circumstances making for an unconventional way to debut a new team in the league, Stephens said that didn't impact her or her teammates in their quest for the league's championship King Trophy.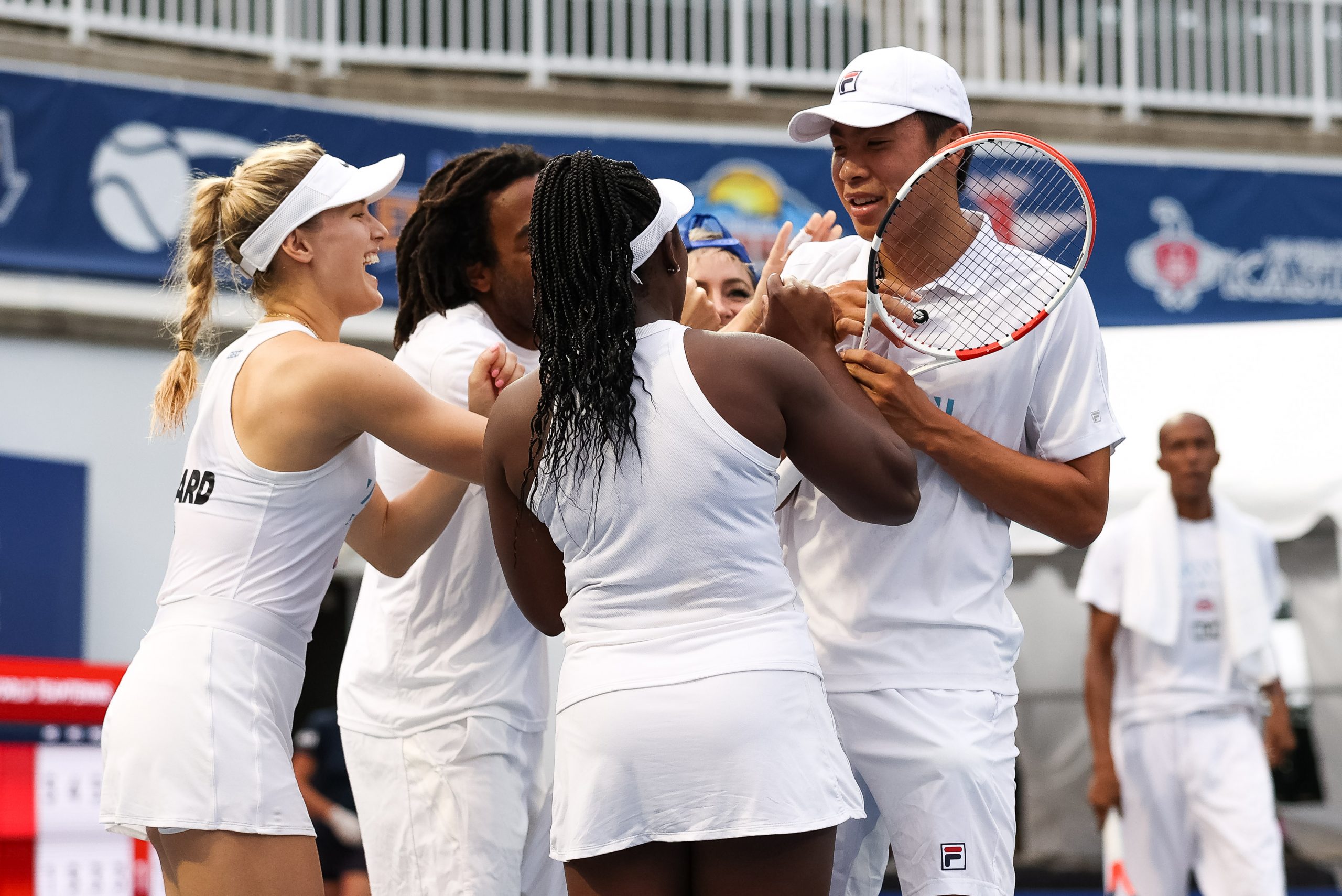 "I love playing for the Smash!" she says. "We really bonded in the bubble and enjoyed each other's company and hyping everyone up during the matches. I don't think we felt extra pressure to prove anything, but we all went out there every day wanting to win. We were so close to bringing home the championship at the end, and I think this year we'll remember that feeling every match. I'm excited to get the team back together again and try to take home the championship this season."
The WTT format also gives Stephens ample opportunity to play doubles in addition to singles — a highlight for the three-time junior Grand Slam doubles champion.
"WTT has such an electric atmosphere because of the team element, so playing doubles is a natural extension of that team dynamic," she says. "I play some doubles throughout the regular WTA season, but it's not something I do all the time, so it's really fun to get out there with my WTT teammates."
Bubble or not, this brand of camaraderie is at the heart of World TeamTennis, and is what brings players back season after season, Stephens included.
"WTT feels like a big family at this point and it's something I look forward to in my schedule," says Stephens, who'll play her seventh WTT season this fall. "Although we all see each other week in and week out on tour, WTT is a great opportunity to get to know players that you might not interact with a ton. For the young players, it's a great way to spend time with vets and kind of feel equal as teammates, and for the older players it's an opportunity to watch some of the rising talent and cheer them on."
Stephens, who turned pro in 2009, certainly falls into the "veteran" category of player. From early successes as a junior to weathering a major injury to defining moments like her U.S. Open victory, the highs and lows in her career have lent perspective that can only come from experience. It's that knowledge that shapes how Stephens tackles challenges on and off the court and is essential to her resilience.
"I try to take a deep breath and categorize what is directly in my control versus what I can't influence," she says. "I work to make a plan to control or adjust what is in my lane, like I would on a changeover or between points, and I try to let the rest roll off. The beauty of tennis is that everything can change with one point, so I try to keep that perspective and trust that I'm always one point or moment away from something major if I just keep going."
She's also been around —and in the spotlight — long enough to know that she's not the only one her attitudes and actions impact, nor does she want it that way. She created her Sloane Stephens Foundation in 2013 to use tennis at a catalyst to promote healthy lifestyles and education for underserved youth, and her dedication to those the organization serves is a guiding force for Stephens in her daily life, including her actions on social media.
View this post on Instagram
"I'm so grateful for all of the opportunities that tennis has provided me in my life, and I know it is an immense privilege to have such a platform," she says. "I'm aware that people look up to me and listen to what I'm saying and posting, so I work really hard to use my platform to advocate for issues and topics that are important to me. Every time I post, I think about what one of the kids in my foundation would think, or if one of their parents would be comfortable sending them to my program. We're all learning and growing, so if I share something that encourages a conversation, makes someone consider a different viewpoint, or helps someone feel seen, I feel good about that."
Even looking ahead toward the WTT season, still months away following the second half of the WTA tour, the kids who participate in her foundation aren't far from her mind.
"Indian Wells is such a highlight of the tennis calendar for me, so it's great to have WTT out in the desert," she says. "I hope it's a fun destination that fans can look forward to and be able to catch so many teams and players at the same time. Personally, I'm really excited that it's so close to LA because we'll be able to bring out some of our kids from the Sloane Stephens Foundation to take in some matches and give them an incredible experience!"
Learn more about the Sloane Stephens Foundation here:  sloanestephensfoundation.org