by: Deanna Murphy
She may only have a year of playing World TeamTennis under her belt, but Jessica Pegula is far from a newcomer in the world of professional tennis. This year alone, Pegula, who made her pro debut on the WTA circuit in 2009 at the age of just 15, has racked up a handful of wins against Top 10 players (including multiple Grand Slam champions) and impressive personal best appearances in each of the first two majors of 2021. When rankings are updated following the conclusion of the French Open, she is projected to be the No. 5 U.S. woman on the WTA tour, and with a career high ranking of World No. 26.
It's success that's been hard-earned by the Buffalo, New York native more than a decade into her professional career, but she gives WTT credit for the boost that she's experienced since play resumed following the WTA tour's pandemic pause in 2020. "I've had a great year and great success which started a lot after WTT last year," she says. "Playing on a team and playing a lot of matches gave me a lot of confidence returning back to the WTA tour after the COVID lockdowns." She isn't exaggerating. In fact, within a month following the conclusion of the 2020 season of World TeamTennis, in which Pegula played for the Orlando Storm, her WTA ranking soared nearly 20 points. As fans and commentators speculated about what the pause in play might mean for some players' performance upon their return to competition, the resumption of play only sent Pegula in one direction: Up.

However, she is quick to note that where she stands by the numbers isn't everything to her. "I don't focus too much on rankings," she says. "They're great milestones and achievements, but they're very fluid. Sometimes they aren't telling to how a person is playing at the time. The depth in the WTA is really strong right now so I don't think rankings matter as much. I just try to focus [on] one match at a time." Instead, it's Pegula's love of competition, not the number next to her name, that's the driving force behind her performance on tour. "I like to embrace that it is my career and something so unique," she says. "Sometimes it turns into a grind but you have to embrace that aspect of it. It's not always fun but it can be so rewarding when you put in the time, effort, and have a good attitude."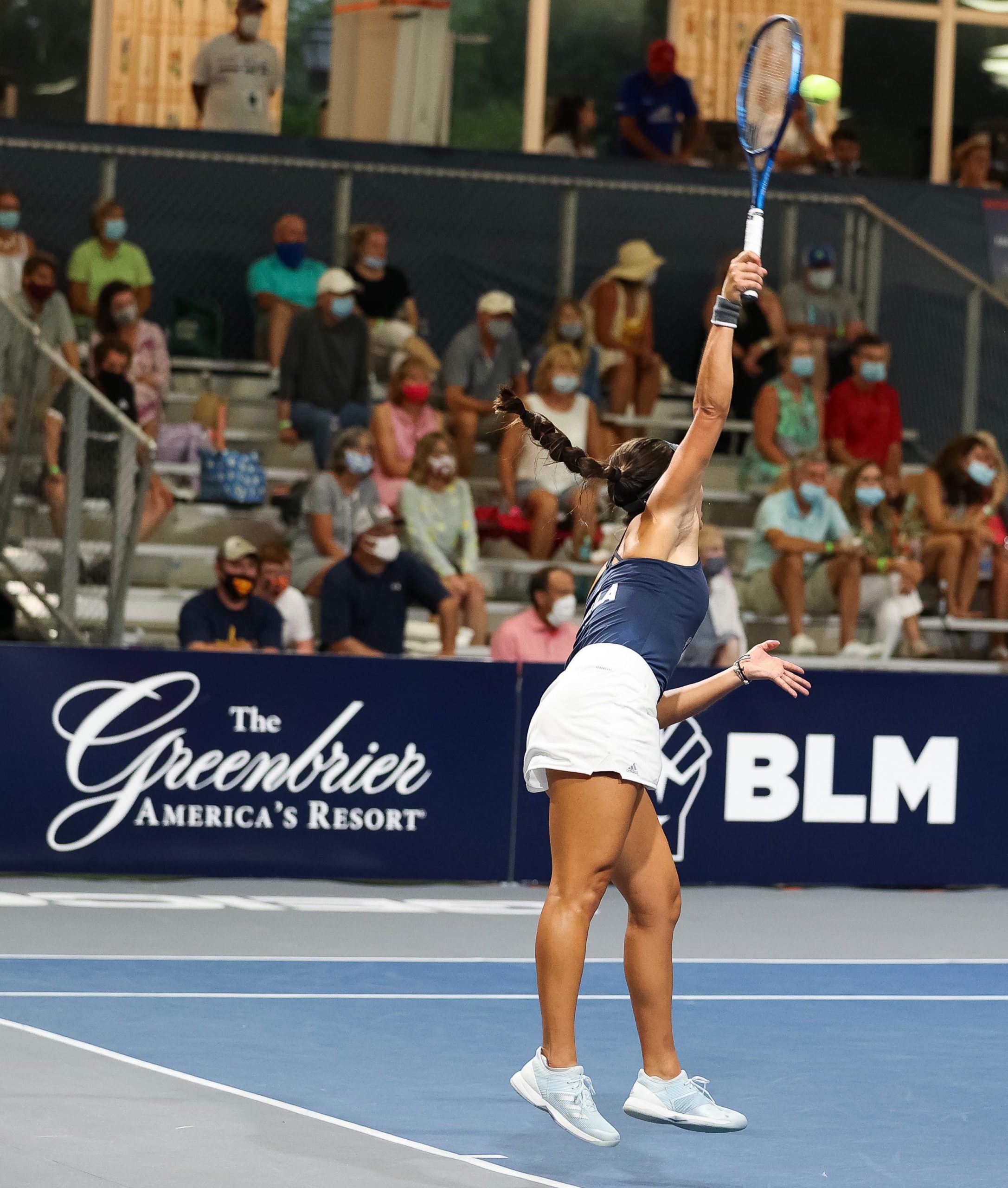 A born athlete, Pegula's competitive spirit and sportsmanship were molded early on, when she participated in multiple sports before turning to tennis. "I grew up playing soccer and baseball/softball. I was a switch hitter when I was only seven and pretty good. My friend Ashley and I were the only two girls on the baseball team — and the best. We had fun," she remembers, adding that when she "got a little older, it was time to decide what I wanted to shift most of my time to. I loved playing everything but tennis made the most sense at the time and probably had the most upside long-term. That's really how I got started."
Now, the 27-year-old is not only looking to continue her ascent in the second half of 2021, which includes two more majors, but she's also looking forward to her return to the WTT stage, this time as a member of the Springfield Lasers. Though her initial exposure to playing in the league wasn't exactly traditional, with its limited crowd size and pandemic bubble setting, the essence of WTT still resonated with her. "I love that [WTT] is so different from WTA tournaments," says Pegula. "It's relaxed but at the same time the team atmosphere brings a lot of energy. I love that we get to play mixed [doubles] too. It just brings a lot of elements that make it exciting." With only limited experience in her career playing in a team format — Pegula was a member of the 2019 United States Fed Cup team — she calls that aspect "the driving force to bring me back playing again. It's so unique to tennis."
Will Pegula help the Lasers return the WTT championship King Trophy to Springfield after the New York Empire took the title last year from the back-to-back 2018 and 2019 champions? Find out when the 2021 season commences on November 13 at Indian Wells Tennis Garden.