by: Deanna Murphy
When Taylor Fritz returns to the World TeamTennis stage wearing Aviators red this November, it won't just be a homecoming because he began his WTT career with the San Diego team. He's also a product of the San Diego area, growing up in Rancho Santa Fe and attending Torrey Pines High School in nearby Del Mar before launching his pro career at age 17. Now 23, Fritz is the No. 1 U.S. player on the men's tour, and after playing for the Philadelphia Freedoms in 2020, he's looking forward to representing San Diego once again.
With the entire 2021 WTT season being played at the spectacular Indian Wells Tennis Garden, Fritz won't be returning to play at the Aviators' longtime home at Omni La Costa Resort & Spa in Carlsbad, but it's close enough to draw a healthy hometown contingent. "Being from SoCal, I am lucky that even though we aren't playing in San Diego, we won't be too far away at Indian Wells, so hopefully when we play our matches it'll have a true 'home' feel," says Fritz. That has definitely been the case in the desert before, when the crowds rallied behind him in memorable matches including the first Top 10 win of his career besting Marin Cilic in 2017, and it's been a constant for Fritz at La Costa.  "The last few years when I played in San Diego, I would always have a ton of family and friends come out to support, so I'll have to make sure Indian Wells feels and is the same," he says.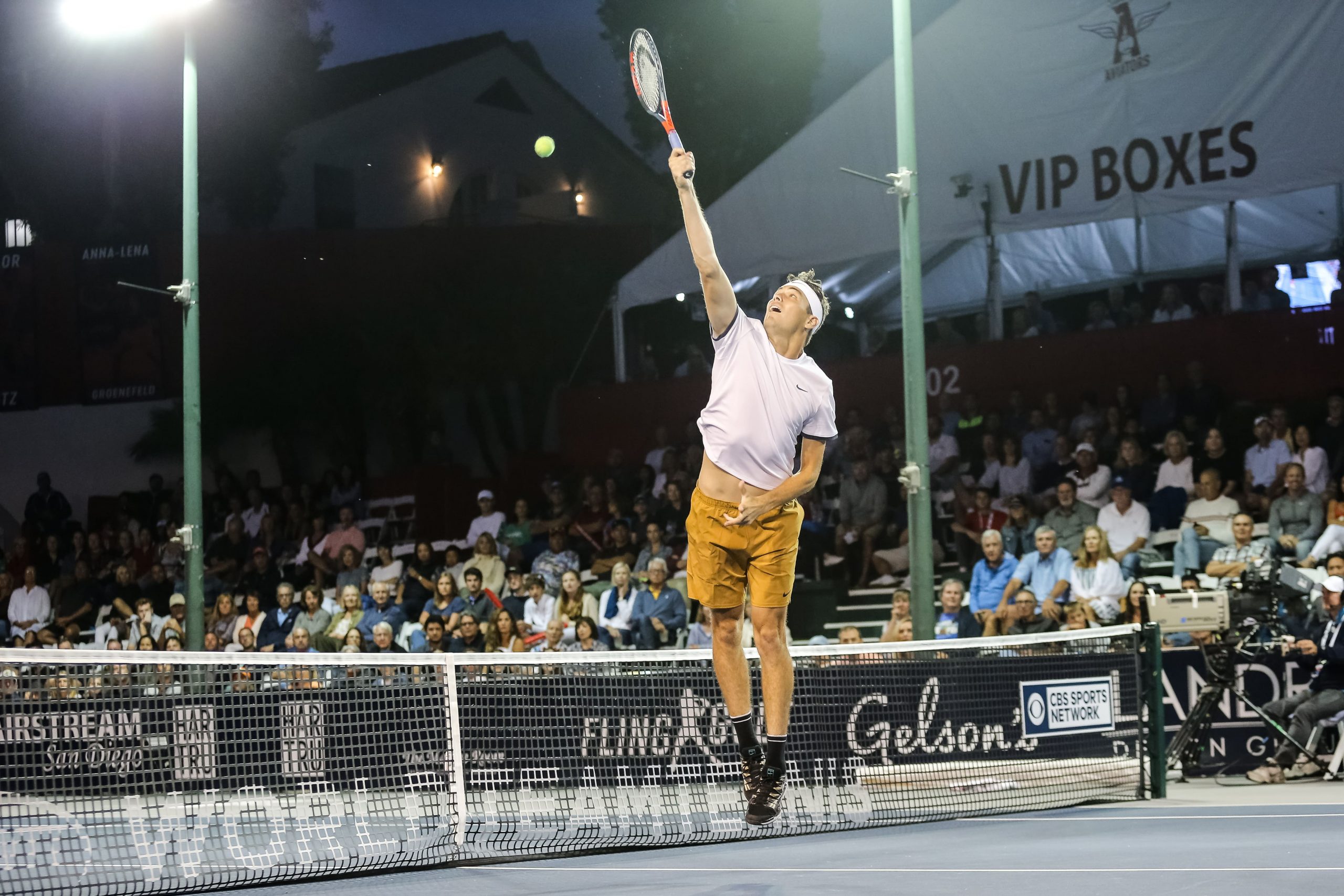 The single location is a newer development for WTT, which also played in a pandemic "bubble" last year at West Virginia's exclusive Greenbrier Resort. Prior to 2020, the league's teams played more than a dozen matches, traveling for about half of them to opponents located throughout the U.S., within a roughly three-week season. The adjustment is a change that's not entirely unwelcome for Fritz. "For me personally, I think it's great because it has a tournament feel to it and the travel can be a lot, given how many matches are played in such a short period," he says. "I'll miss the home and away style matches but Indian Wells is such a great venue that being there for a long period of time is never a bad thing."
"Stadium 2 at Indian Wells is one of the best stadiums in the world," he continues. "I'm really looking forward to playing there in front of fans, both at [the BNP Paribas Open] in October and WTT in November." And it's not just the stadium that's appealing, but the promise of returning to the storied location to play for the passionate tennis fans that Indian Wells is well known to host. "The last 18 months have been so unique for everyone, so I think everyone, including the players, is looking forward to playing in front of crowds if [it's] safe for everyone. I personally love playing in more lively situations with people cheering for and against me," says Fritz.
Enjoying a "lively" playing atmosphere is a must for WTT players in a league that encourages hearty fan support from the stands and features an on-court DJ — a setting Fritz likens to the PGA's Waste Management Open, known for its unconventionally relaxed vibe that's made it a fan favorite event. "WTT isn't your normal event, but that is a good thing," he says. "I love the energy, music, and noise."
Despite the contrast between a WTT match and more traditional tennis events, the competition — and the tennis — is as serious as anywhere. For Fritz, that means his mindset, whether it's at a major or a World TeamTennis match, never changes. "WTT has gotten so competitive the last few years and the player field is very strong," he explains. "Nobody wants to go out there and lose, especially in front of a big hometown crowd, so my preparation is the same. The format is different so you have to adjust to that, but once you get in match mode that transition is very easy. I just have to remember to play lets."
Fritz credits WTT with reinforcing the significance of playing pressure points in a match. The unique format's fast pace of play combined with the drive to get the win for the team means every point counts. The team aspect is also a welcome change from the isolation of life as a singles player on tour. It's a sentiment echoed by many WTT players who say they're bolstered by the presence of a team on court to pick them up when they're struggling and cheer them on when they're winning.  "I played high school tennis before I made the transition to focus solely on my professional development, and both my parents have always been advocates of WTT and team tennis in general," says Fritz. "I always enjoy team formats, whether it's WTT, Laver Cup, or Davis Cup. I wish there were more team events throughout the calendar year."
Ultimately, the opportunity to play at all after a challenging year has Fritz feeling grateful for a return tennis. "Every event that I have played during this COVID era has been different and has forced everyone to adjust," he says. "It's been a tough year for everyone so I'm just very grateful that I'm able to play and travel." And for San Diego Aviators fans, there's gratitude that their local star is traveling toward home when WTT kicks off this fall.
If you want to come and see Taylor Fritz and the rest of WTT's all-star athletes, secure your seats for the season here: https://wtt.com/tickets-2021/