White Sulphur Springs, W. Va.—All season long, Ryan Loco has been tasked with a nearly impossible job: photographing 66 matches involving 50-plus players and coaches. He's an integral part of the WTT family and has been spotted everywhere like atop the stadium, all along the court and behind team members in the corners of the court. He's even been seen tucked under the net, peaking out from behind the indoor stadium's wall and planted on the team bench.

"I was not prepared for it and shooting almost every match has been professionally the most difficult thing I've ever done, 100 percent," Loco said. "I don't want it to look like a normal tennis tournament because I don't feel like this is a normal tennis tournament. I want people to say, 'What's going on in West Virginia, how do I watch this?'"
The Florida-based freelancer was prepared to handle the long hours, overbearing heat and blinding sun, but not the bugs or the singular setting. The greatest challenge has been finding variety in all of the repetition.
"It's just a matter of shooting a match differently than I shot a week ago even though we're in the same venue with the same roster," he said. Going indoors has been a welcome relief for him from both the sun and the repetitive viewpoints.
The 39-year-old's road to The Greenbrier is unusual, having pursued a career in film making and stumbling into photography.
"I never wanted to be a photographer," he said. "My plan was to be a small documentary filmmaker and just be poor and travel the world with a backpack."
When he was filming at a mixed martial arts competition, he snapped a few photos just for fun and they ended up getting used by a Swedish website. At another event in Boston, the same thing happened but this time his work was picked up by a magazine.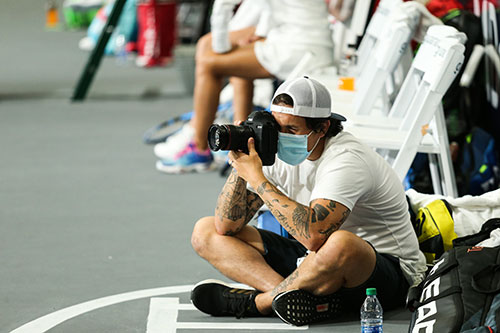 "They were awful photos when I look back," he said. "But then I was like geeked because there I was with photos in a magazine."
Loco's entryway into tennis came through WTT CEO Carlos Silva, formerly the president of the Professional Fighters League. He got the call-up for WTT last year after meeting Silva in fighting world circles. Though he didn't play tennis growing up, preferring basketball and golf, he watched the game a lot and has picked up a huge appreciation for doubles thanks to WTT.
"He's an incredible photographer," New York's Neal Skupski said. "He's the best photographer I've seen taking tennis shots. He's definitely excelled and he's getting better all the time. The photos that he produces are pretty cool with different effects."
While his task is daunting at The Greenbrier, Loco has developed an efficient work ethic to help him survive. Instead of getting overwhelmed by a huge number of photos to pick from and wasting time in post-production, he publishes in-between sets by limiting himself to only a low number of shots. He's even made a game out of it to challenge himself to be less trigger-happy with the shutter.
The players are pleased with the results, and they let him know both in-person and by sharing his photos on social media. Like everyone else, Loco didn't expect to be working at one location for the entire season. While the setting has presented new creative challenges, it's also allowed him to get to know the players more intimately and get innovative with his camera positioning.
"If I was in any other tournament, I wouldn't get close to what I get here; they give me complete and free range to do basically whatever I want," Loco said. "Sometimes I sit on the bench with the players and take photos which is unreal. I'm able to be on the court super low next to them during serves and their teammates are basically protecting me in case an errant serve tries to hit me in the head."
The players have gotten to know their go-to photographer, apologizing by name when a ball does hit him, cracking jokes between points, requesting photos from him directly and keeping in touch throughout the year. They'll even acknowledge him mid-match as he's crouching in a corner busily angling for a new shot.
"All the players love him," Skupski said. "He's very down to earth. He's so cool to be around and he puts the work in. He's doing 15 hour days."
Loco has got a few favorites to work with like Tommy Paul and Tennys Sandgren because of their athleticism, extreme air and sliding footwork. When he photographed Sloane Stephens taking on Venus Williams, he got a little blown away.
"I'm sitting on the court between these two champions and I had to take a second to really soak it in," Loco said. "It was such a special moment in such a unique situation."
He has come a long, long way from dropping out of college after two years at Cal State Saint Marcos with no plans for what he'd do next. The players certainly want to see more of him in the future.
"I never thought growing up that I would get on a plane, I never thought I would leave my state," he said. "To then on the flip side be traveling to different countries to shoot sports and get paid for it is was mind blowing for me. To wake up and be here in West Virginia almost a month documenting something that's pretty history, it trips me out. I am stoked every day. It is a gift."
Photographer for a Day
Nina Pantic is a tennis writer, editor, podcast host and content producer. She played collegiate tennis at UCLA. You can follow her on Twitter at @NinaPantic1