White Sulphur Springs, W. Va. — As if she needed more confidence, Bethanie Mattek-Sands picked up the 2020 Female MVP award on Friday heading into the playoffs.
The 35-year-old has posted the league's highest winning percentages in women's and mixed doubles (60 percent with Eugenie Bouchard and 56 percent with Rajeev Ram). Philadelphia Freedoms' Taylor Fritz would win the Male MVP award.
While singles stars get all of the spotlight on the tour, doubles is the majority of WTT action. Three of the five sets are doubles and by playing two each match, Mattek-Sands has been a deciding factor in Chicago's 9-5 season record. She's an energetic team player on and off the court, and her outgoing personality puts her teammates at ease.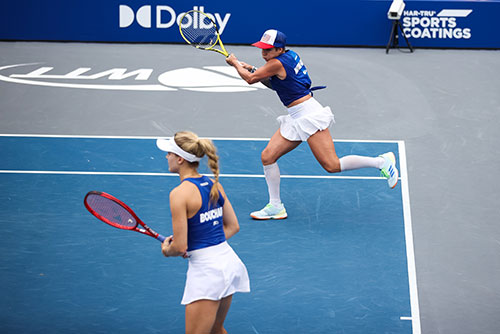 "I love it, she's such a great doubles player," Bouchard said. "I just say look just tell me what to do and I'll do it. She calls the plays all the time and I just try to follow and try to keep up. I think we match well together so we've had some fun."
Even fellow Grand Slam winners on Chicago Smash are eager to learn from her.
"Bethanie was really helping me in the men's doubles," Australian Open champion Ram said. "Something about being more aggressive on the volleys. She's won like 60 Slams and a gold medal, so I'm going to trust her."
Mattek-Sands technically has nine doubles majors, and she actually won that gold medal with Jack Sock over Ram and Venus Williams in Rio. Once ranked as high as No. 30 in singles, Mattek-Sands is still playing both disciplines on tour, though primarily focused on doubles where she's currently ranked No. 20.
"I don't like comparing singles and doubles, I think they're different games, they're different products," she said. "You train differently for them, there are different tactics. I think they're entertaining in different ways. I think that's how they really should be promoted and marketed."
The American has been a huge influence in promoting the doubles game, both by winning and by being her naturally outspoken self.

"When you watch doubles highlights they're just different than singles," she said. "Amateur players can relate to doubles because that's the majority of what they play. I really would love to see double take a bigger ride—not saying to overtake singles or that it's better than singles—I just think it's different."
Even without singles titles to boost her fame, she's become one of the most popular players on the planet. The shutdown did not slow her roll as she stayed busy promoting the game with a weekly show called Tennis United.
"I was really going to start in Indian Wells doing behind the scenes for the WTA," Mattek-Sands said. "They wanted me to do that because nobody else really does it and players are comfortable with me."
She co-hosts the show with ATP player Vasek Pospisil and they interview and quiz players every Friday. Last week, she caught up with her former longtime doubles partner, Lucie Safarova. All five Grand Slams that Mattek-Sands has won in women's doubles were with Safarova. The duo, known as Team Bucie, were so in sync they would break into coordinated dance after winning.
"I needed you there because you loosened my energy," Safarova told her. "If there's someone who can loosen energy it's you. We had great energy on and off the court."
Synchronized dancing is something that has yet to be seen at The Greenbrier, but Mattek-Sands did try to come up with a name for herself and Bouchard by asking Twitter for suggestions. Chicago Smash has instead been doing post-match shoulder massages. It's all part of team bonding as the group, which also features Brandon Nakashima, Evan King and Sloane Stephens has gotten to know each other very well over the last three weeks.
"We're literally so chill," Bouchard said. "We all get along and we're all super different. So it's just cool that we've connected and are able to be intense in the matches but super relaxed off the court. We're always making jokes and kind of making fun of each other. It's just a really good vibe."
The good vibes will hopefully roll all the way to Chicago Smash holding the King Trophy on Sunday. First, they have to get past No. 2 seeded Orlando Storm and then take out the winner of the Philadelphia Freedoms and New York Empire. No matter who wins, WTT has done its part and then some to elevate doubles, while Mattek-Sands will continue to be a vocal supporter.
"I think if we're looking at getting people interested in tennis, doubles is the way to go," Mattek-Sands said. "You can really have fun with it and play with different partners. It's how you can meet new people, make new friends, socialize. I hope that both tours can really latch on to marketing doubles that way."
Nina Pantic is a tennis writer, editor, podcast host and content producer. She played collegiate tennis at UCLA. You can follow her on Twitter at @NinaPantic1