White Sulphur Springs, W. Va.—The playoffs are set and it's all coming down to four teams on Saturday: No. 1 Philadelphia Freedoms, No. 2 Orlando Storm, No. 3 Chicago Smash and No. 4 New York Empire. Here's a look at what you can expect on Saturday.
Philadelphia vs. New York, 2 p.m. ET:
As the top seed and home team, Philadelphia has the obvious advantage over New York. The Freedoms have been impressive with a 12-2 record and just beat New York on Thursday emphatically, 25-17. But, New York is one of two teams (the other being Orlando Storm) to get a win over Philadelphia, back on July 15. They're also the only team to trade, picking up Coco Vandeweghe and Nicole Melichar for Sabine Lisicki and Kveta Peschke on Sunday.
The singles: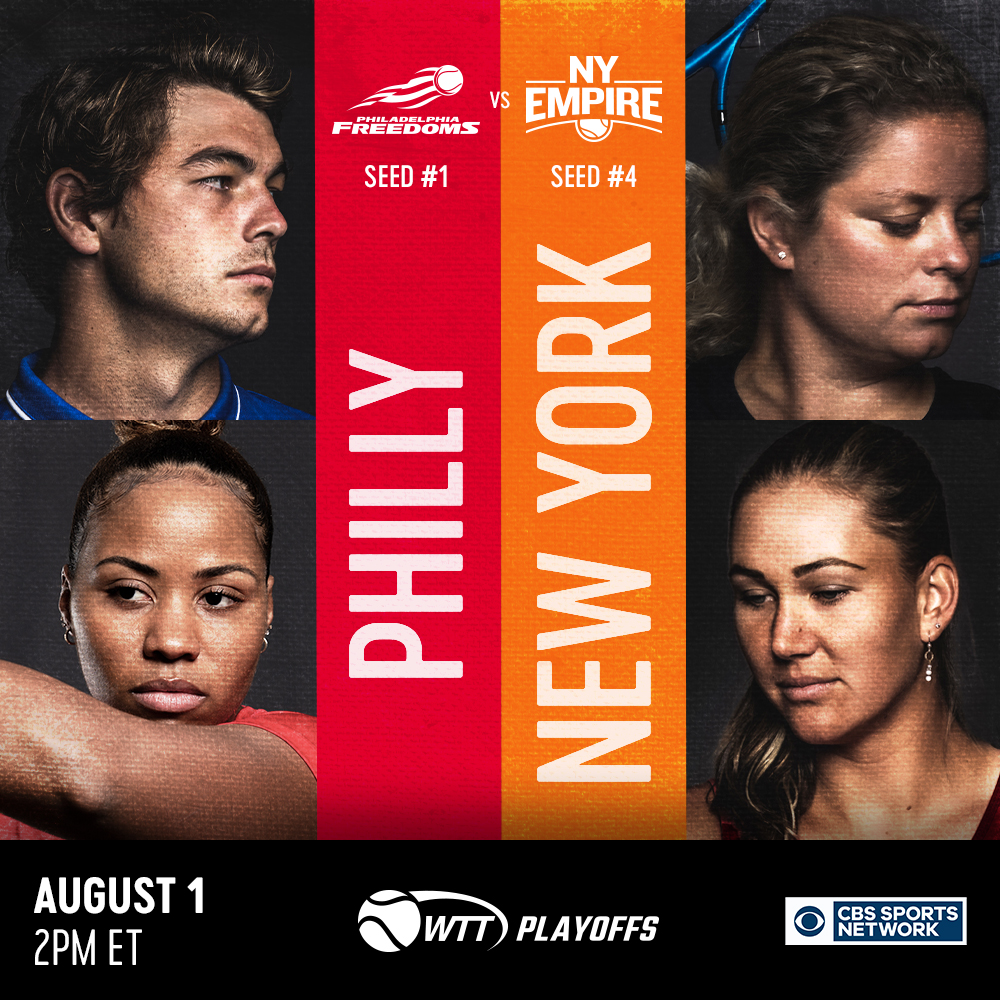 Philadelphia coach Craig Kardon hasn't mixed his lineup up much and that's because he hasn't needed to. He'll have world No. 4 Sofia Kenin and world No. 24 Taylor Fritz locked into singles. As the highest-ranked players in the field, both have done a great job of winning, exactly as expected. Kenin has suffered just four losses this month, but two of them have been against New York players: Kim Clijsters and Vandeweghe.
The doubles: 
Taylor Townsend and Fabrice Martin in mixed doubles should be evenly matched against Vandeweghe and Jack Sock. All four are power players who won't be afraid to rip the ball. With Sock rested after a day off on Thursday, he should be fresh and eager to perform. If coach Luke Jensen puts Nicole Melichar into mixed doubles instead of Vandeweghe, then the favor shifts to Philadelphia.
Jensen picked up Melichar and Vandeweghe on the heels of their win over Kenin and Caroline Dolehide on Sunday night. He'll expect that same energy from them on Saturday, and it wouldn't make sense to mix Kim Clijsters into this successful duo.
The biggest question: 
The biggest question mark for New York is if Clijsters will be healthy enough to compete. Given she hasn't played singles since July 18 or doubles since July 25, rustiness will be a huge factor if she does get put in. Jensen was hoping to rest her in time for the playoffs but that move could prove too risky with Vandeweghe just scoring a come-from-behind win over Kenin.
The prediction: 
For this semifinal, all of doubles teams will be evenly matched and this clash will come down to singles, where Kenin will be thirsty for revenge and Fritz will likely be bombing 140 mph serves. These two have been eager for high-pressure moments and will finally get them. Expect to see Philadelphia advance.
Orlando Storm vs. Chicago Smash, 5 p.m. ET: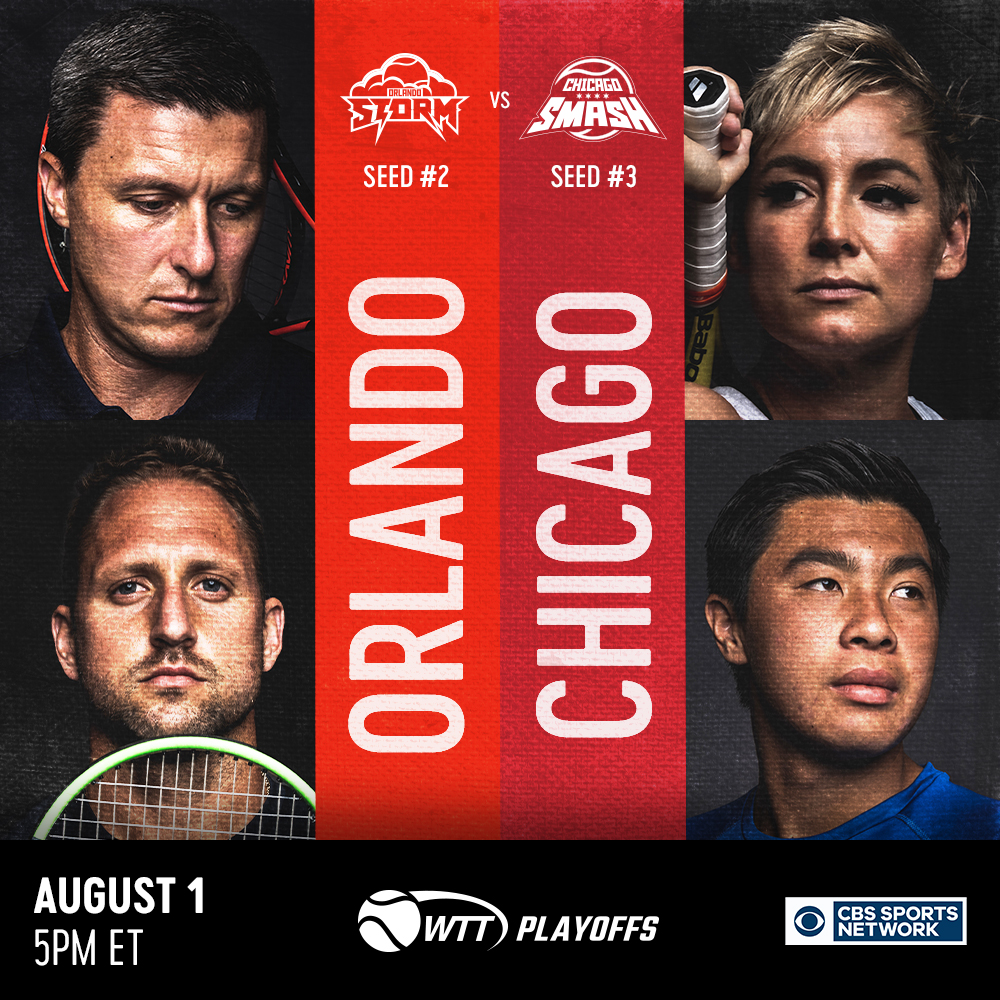 Chicago Smash was sitting pretty as the No. 2 seed until an unexpected Supertiebreaker loss to the San Diego Aviators on Thursday morning. With Orlando Storm now as the home team, the advantage has shifted. This season, these teams have gone 1-1 with Orlando winning on July 14 and Chicago returning the favor five days later. Momentum is on Orlando's side: After starting the season 3-4, they've gone on a seven match winning streak.
The singles: 
With Chicago's Brandon Nakashima holding his own in men's singles all season long, expect him to push Tennys Sandgren to another tiebreaker (though he's lost both times). Women's singles is less easy to predict. Sloane Stephens has been slow off the starting line and Eugenie Bouchard has gotten a few chances to prove herself but hasn't cleaned up. The problem for both of them is a red-hot Jessica Pegula. Pegula has been the weapon for Orlando, picking up wins in singles, doubles and mixed. She just took out Venus Williams on Thursday, adding even more to her already lofty confidence level.
The doubles: 
In men's doubles, Ken Skupski and Sandgren will pick on Nakashima, who's been paired with two-time Grand Slam champion Rajeev Ram. Women's doubles should go in the favor of Chicago with Bouchard and Bethanie Mattek-Sands the most winningest duos this summer. Mixed doubles should also favor Chicago, at least on paper, but the pairing of Ram and Mattek-Sands have split sets with Pegula and Skupski. Coach Jay Gooding could put Sandgren in as he's been a player that's tough to rattle.
The biggest question: 
The biggest question for Chicago coach Kamau Murray is who he's letting compete in women's singles. He's the private coach of Stephens, but she hasn't performed up to their standards and even she's willing to sub Bouchard in one a slow day. Will Stephens show up and perform with enough finally on the line to motivate her?
The prediction: 
Despite Chicago starting off as the second-best team, Orlando has just picked up its level so much going into the final weekend. Getting the home advantage was just icing on the cake. Orlando super stars Sandgren and Pegula will be too strong in all disciplines and expect to see them secure the final berth.
Nina Pantic is a tennis writer, editor, podcast host and content producer. She played collegiate tennis at UCLA. You can follow her on Twitter at @NinaPantic1