White Sulphur Springs, W. Va. — As the highest-ranked player in the 2020 WTT field, Sofia Kenin has high expectations for herself and her team. With a 10-2 record, the Philadelphia Freedoms sit atop the standings going into the playoffs. As a rookie, Kenin has played her part, and then some, with nine singles wins.
She came into the season hot after an intense "pre-season" in south Florida. It's in the 21-year-old's nature to get locked into the process with blinders on. Even after winning her first Grand Slam at the Australian Open, she got right back to work (after some shopping).

"I was literally on cloud nine," she said. "That's all I was saying after my final I was literally telling everybody that I'm on cloud nine. I got treated well. I got some gifts for myself, but other than that I was still practicing and doing what I can do and I really want to have more success like that."
When the tour shut down in March just after she won her fifth WTA title, in Lyon, she didn't take a break.
"I literally practiced every day except on the weekends," the world No. 4 said. "We had a private court. I hit with a hitting partner and she stayed for the past three months. I'm doing fitness here just to keep it up since I've done a lot during this pandemic."
One of Kenin's nine wins came over one of her idols, Venus Williams. She took a loss to another idol, Kim Clijsters, and, as expected, she is thirsty for another chance.
"I guess my nerves got the better of me when I played her even though it's not a full match," Kenin said. "It was just a little bit different because I've always looked up to her. I'm supposed to play her in a few days, so hopefully it will be a better matchup. I'm going to be excited to play her."
Kenin might have to wait until the WTA tour restarts as Clijsters hasn't played singles for the New York Empire since July 18. The Belgian has been in and out of doubles, and coach Luke Jensen traded in CoCo Vandeweghe and Nicole Melichar late on Sunday.
At least Kenin might get another look at Clijsters in doubles. She's played doubles with Caroline Dolehide this season, and they've gone 2-2.
"I've know her since were we like 10," Dolehide said of Kenin. "We have a really good connection on court and it's been really fun getting to know her even more. Getting to know all these people a lot better is really fun."
Having Kenin on the team is a huge boost for the Freedoms, a team that also has the highest-ranked male player in Taylor Fritz.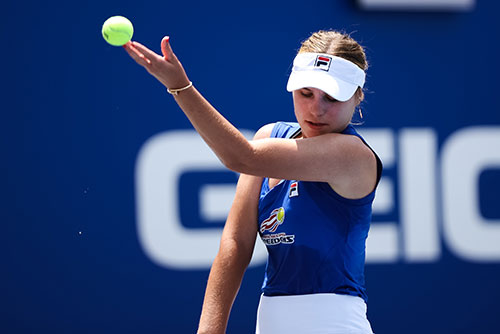 "I think we all take it very seriously," Dolehide said. "With Kenin specifically, she has her drinks ready. She has her towels. She has her routine. So I try, especially as a teammate, to respect that and to help her out with that. Whenever I'm playing, she's doing the same thing."
On top of her loaded season schedule, Kenin is putting in extra hours on court and in the gym as she looks forward to the WTA tour's return in August (she plans to start in Cincinnati).
"We're working out, we're practicing, and if I want to do something in between I can just to make sure I'm fit and I'm ready," Kenin said. "My father is obviously here and it's good. Team practice can get a little bit fun which is good to have and we're just helping each other out."
The team environment is great for someone as young as Kenin, who hasn't gone through a normal high school or college experience.
"She's competitive," Dolehide said. "She's Sonia Kenin. She's so young, 21 just like me. So we're still getting to know the game, getting to know these experiences, having fun with it and playing free."
Kenin's playing freely, but she's never without the fighting spirit that seems deeply ingrained in her DNA.
"From a young age my dad has helped me with that," Kenin said. "When you're playing tennis, you've got to fight and never give up and run after everything. Anything can change at any given time. I had to develop that, but it's also been natural with me. "
When you see her compete this week, it's obvious that Kenin used the quarantine period to her advantage. The WTT is the perfect launching pad for someone as hungry as her for wins, both this weekend and in August.
"I really want to have more success like [Melbourne]," Kenin said. "I have lots of tennis and l have a long career ahead. It was obviously great, but I want to keep moving forward and doing what I can to achieve what I want. I want to win as many as I can win. I want to be No. 1, that's a goal I've always had. I want to do the best I can to perform and be in the best shape when I play a Grand Slam."
2 Minutes with Sofia Kenin
Nina Pantic is a tennis writer, editor, podcast host and content producer. She played collegiate tennis at UCLA. You can follow her on Twitter at @NinaPantic1