White Sulphur Springs, W. Va. – Tennis is the reason players came to The Greenbrier this summer, but it's not the only sport they're playing. Their passion for golf is so intense that a number of WTT stars brought their own clubs.
"Being an avid golfer is something that I really enjoy about The Greenbrier," Orlando's Ken Skupski said. "We play as much as we can when we're on the tour. I'd like to play more and it seems like we'll get the opportunity to play quite a lot here."
He's absolutely right. CoCo Vandeweghe, Steve Johnson, Jack Sock, Sam Querrey, Jonny O'Mara , Neal Skupski, Ken Skupski, Christian Harrison, Ryan Harrison, Bob Bryan and Mike Bryan have all walked the green. The Greenbrier has three full courses—The Greenbrier, The Old White and The Meadows—so they can even mix it up on days off or after matches.
While most of the tennis-playing golfers have been working on their backswings for both sports since childhood, it's never too late to pick up the game and The Greenbrier is a perfect place to start.
"I do have a putt-putt game," Springfield's Caty McNally said. "I've never actually gone on the golf course and played, so it should be interesting. Hopefully I just don't hit anyone in the head with a golf ball or something, but I'm looking forward to hopefully playing on the Greenbrier course."
Not everyone is keen to swing a nine iron.
"I'm not a big golfer," Orlando's James Ward said. "It's a shame. I wish I was so I could make more use of it. I heard the courses are amazing. But it's nice to be here and be out in the fresh air and see the green. It's lovely."
The range in golfing interest is vast: San Diego's O'Mara literally grew up on a golf course.
"Obviously being from Scotland if you don't play golf then your family won't really like you," he said. "I grew up near Carnoustie
and then my house is a two-minute walk from a 16th green. Pretty much every day I'd be out there playing."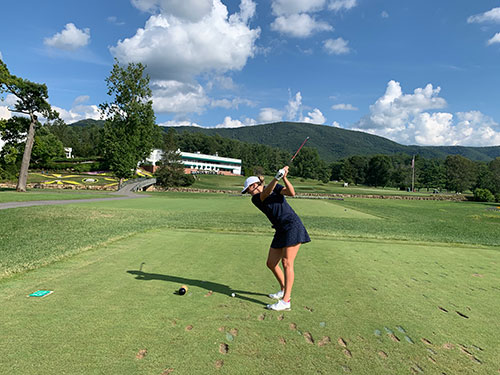 The courses are so well taken care of and so spaciously laid out that it's easy for a beginner to feel comfortable even if they whiff a few swings or spray a ball into a lake. There's such a thing as too good for those seeking a greater challenge.
"They're in unbelievably great condition, but I don't enjoy American golf as much as I do in the U.K.," O'Mara said. "It's more of a challenge in Scotland because the weather is awful so it feels a bit more real. These courses are immaculate. It's great to play but it's not quite real life."
The competition in West Virginia this month is very real. Amidst the quasi-professional golfers switching between rackets and drivers, there's a lot of healthy competition with a touch of trash talking.
"I'm hands down the best on my team, but I'm playing with Johnson who's better than me," Las Vegas' Querrey said. "Sock is a good golfer. Obviously, Mardy Fish. But current American players, Johnson and Sock are probably No. 1 and No. 2 and I'm No. 3."
Fish had signed to compete for New York Empire but pulled out with an injury. He's so good he just won a celebrity American Century Championship in Lake Tahoe with $600,000 in prize money going to charity. Without Fish at The Greenbrier, Sock and O'Mara seem to be the toughest to beat.
"From the British guys that I know, O'Mara is very good," Ken Skupski said. "He's got a beautiful swing. I'd definitely like to be able to play as good as he does."
"I played with Ken Skupski, the Harrison brothers and Vandeweghe," O'Mara said. "I got the win in all of them so at least I'm getting the wins somewhere out here."
It's good there's still over a week left because he's got a few challenges left to take on (and time still to dig the San Diego Aviators out of a 3-6 losing record).
"People keep saying O'Mara's a great player," Sock said. "Throw handicaps in there I would maybe bet on myself. We'll have to see if we get out at the same time. If it links up with schedules, I'd love to play him."
It's becoming very standard players to wrap up a match on Creekside Stadium and then race over to the clubhouse to make their tee time. It can make for a tiring day, especially if they're playing 18 holes, but there are golf carts, refreshments and plenty of shade.
There are other advantages of making it to the fairway beyond an extra dose of competition and a break from the on-court grind– even though Creekside Stadium is visible through the trees from parts of the course.
"You've got to be patient out there," O'Mara said. "The main thing is bouncing back from a tough situation. Obviously in tennis, you can play a bad shot, bad point or bad game and you've still got to try and win. That's the same with golf. If you hit a bad shot you've got to find a way of mentally getting rid of that shot and staying in the present."
Golfing with Ryan and Olivia
Nina Pantic is a tennis writer, editor, podcast host and content producer. She played collegiate tennis at UCLA. You can follow her on Twitter at @NinaPantic1