White Sulphur Springs, W. Va.—The Greenbrier suits Eugenie Bouchard on and off the court. The Chicago Smash star has been putting up wins in both singles and doubles for her team while maximizing her free time.
On her Instagram account, her two million fans can see her shooting clay pigeons, driving four-wheelers, lounging by the pool and horseback-riding. The sprawling resort has so much to offer, and the activities are a big source of excitement for players.
To all the haters that say that time should be spent training, she has a few words for them.
"I've been through the whole spectrum of people loving you when everything is going great, [people hating] you when things are going bad," she said. "I've been through that wave so many times. It just sucks that people think social media is like an exact replication of your day when it's not."
Social media fame is a double-edged sword for athletes like Bouchard, but more good has come out of her popularity than bad as she's built a brand and fan base by just being herself online.
"I can literally go running for eight hours and then go to dinner and post a selfie, and people think I just went to dinner," she said. "People need to realize it's only what people choose to show."
The long hours she puts in on the gym and court might not be reflected directly on her Instagram feed, just like office workers don't usually post from the desk. Bouchard has come into the 2020 WTT season fitter and hungrier for competition than ever. She also has some match play under her belt having already competed in Charleston and Lexington, impressing in both. But like WTT, those performances aren't boosting her ranking, which has dipped to No. 332.
Instead of sulking on the couch over the lack of opportunities for points (she's been ranked as high as No. 5), she maximized the unexpected layoff. The 26-year-old spent the four-month shutdown in Las Vegas training with famed fitness coach Gil Reyes while working with Andre Agassi and Steffi Graf.
The hard work payoff might take a little longer to turn into a ranking boost. She was just announced as a wild card for Prague, which begins on August 10.
"I'm just going to put so much pressure on myself because it's like you have literally one chance to make points," she said. "It's your only opportunity. It's your one tournament in the past 6 months. I've got to be ready. I'm just hard on myself."
In preparation, she's getting in as much match play as she can for the Chicago Smash.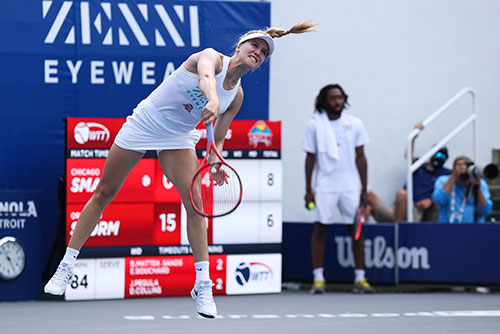 "Fifth season already. I didn't even realize I played that many seasons of WTT yet," she said. "I think it's just such a great event. It's so fun with this team atmosphere and it gives you great quality matches as well. So it kind of has everything you're looking for."
On Wednesday, she improved her doubles winning percentage with Bethanie Mattek-Sands to 68 percent (the highest in the league). She got subbed into singles to replace Sloane Stephens, and won 5-1 against two different Springfield Lasers opponents, Olga Govortsova and Caty McNally.
"Kamau [Murray] put me in from the start and she was at the back supporting me and I support her whenever she plays," Bouchard said. "Obviously, I want to play every single day, every single match, all the time. But this is a team sport so we're just doing what's best for the team. We all just support each other."
It's the second time Bouchard has come in for Stephens, but there are no egos getting in the way of what's best for the team.
"I've known Sloane literally since we were 11 years old. We trained together in Florida," Bouchard said. "She lost a tough match once and was like, 'Kamau, you should have put Genie in. What are you doing?' So now some days she's like, 'Genie, be ready. If it doesn't go well, you're going in right away.'"
The strategy is working as the Chicago Smash is 6-2 and second in the league standings. They might be first in team chemistry as the group—which includes coach Murray, Bouchard, Stephens, Mattek-Sands, Rajeev Ram, Evan King and Brandon Nakashima— have some of the most outgoing, gregarious characters in WTT history.
"Besides Sloane and Bethanie, I didn't really know anyone else on the team," Bouchard said. "We're all so different, different ages, different cultures, different everything. We've all just gotten along so well."
She gives coach Murray a lot of the credit (he's also the personal coach of Stephens).
"I think Kamau as a coach is just really laid back," she said. "We're intense when we need to be, but also chilled and he's our friend, too. I think that is the first step to having a good, chill team is the coach."
No matter what happens next, in West Virginia and Prague, Bouchard is looking to make the most of each opportunity in front of her, whether it's an extra set of singles or a few minutes on horseback.
"I don't think anyone can predict what their future holds, but I'm just so happy to be playing tennis and working really hard," she said. "I feel like I have a great team around me. So in terms of career-wise, I just hope great things happen."
Nina Pantic is a tennis writer, editor, podcast host and content producer. She played collegiate tennis at UCLA. You can follow her on Twitter at @NinaPantic1