White Sulphur Springs, W. Va. – At 18, Brandon Nakashima is the youngest male in the 2020 WTT field. He's certainly not playing like it with wins over Sam Querrey, Steve Johnson and Jack Sock for the Chicago Smash, who are 6-2 and second in the league standings.
The teen is using his first experience with WTT as a launching pad for the rest of the season, and the rest of his career. At No. 220 in the world, the American is hoping he's in the running for a Cincinnati or US Open wild card.

"I'm definitely most looking forward to playing the US Open, if possible," he said. "All of the Grand Slams I would enjoy playing, but right now during this time I think the US Open I'm most wanting to play."
His dream is to play Roger Federer on a big stage, but that won't materialize for a while longer as Federer is sidelined with a knee injury and the tour's future schedule is in doubt.
But at The Greenbrier where matches have been underway for 11 days, Nakashima has impressed with his maturity and steady game. He stays level-headed at all times—even in high-pressure moments like his Supertiebreaker victory against Sock and in one-sided losses like his 1-5 set against Mitchell Krueger on Wednesday.
"I think one of my biggest strengths on the court is definitely my mental game and just being in every point in every match, not getting too down on myself or getting too excited during positive times," Nakashima said.
Another of his biggest strengths is his eagerness to learn. He's soaking up a lot of new information this month from his experienced teammates, Chicago Smash coach Kamau Murray and his personal coach Dusan Vemic. He's taken some losses (against Tennys Sandgren, Taylor Fritz and Krueger) but it's all part of a process that is the big picture.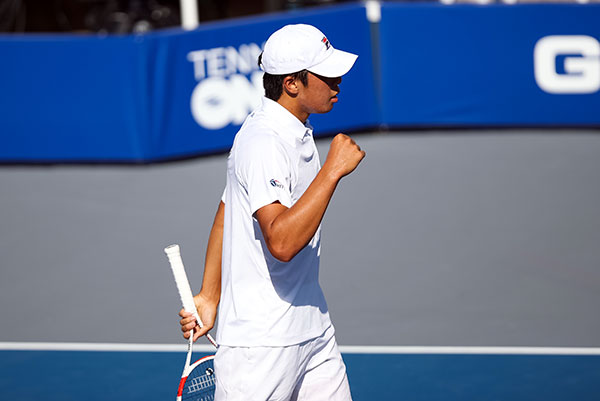 "He's a very good as a student," Vemic said. "He listens, respects and implements it into his game very quickly. The future is bright. Our objective is for him to grow. There are qualities that I see that are maybe underrated—they're not flashy—but those are qualities that you want to have as a top tennis player."
When he's not on court trading groundstrokes with the best in the world, Nakashima is doing his homework.
"He loves tennis. He lives tennis," Vemic said. "We watch tennis videos all day long. He knows all the results."
The teen got a taste of real homework when he attended the University of Virginia in January of 2019 after peaking at No. 3 in the ITF junior rankings. He would turn pro after one semester, win his second ITF title in early 2020 and make his ATP debut in Delray Beach. Just ahead of his first-ever ATP match, against Jiri Vesely, Nakashima added Pat Cash to his team and then went on a run to the quarterfinals.
"What was interesting is I was getting messages from [people] like, 'Hey he won this match, here's the video,'" Cash said. "I'm not really interested in him winning the match, I want to see him losing matches. When you're in form, everything looks great and your weaknesses look good, you're not making mistakes. It's when you're losing, I want to see, whatever it happens to be, that shot breaking down and then I want to make some notes."
Cash, a former No. 4 and 1987 Wimbledon champion, is working with Nakashima for 20 weeks out of the year, while Vemic is full time. The international trio—Vemic is Serbian while Cash is Australian—are based in San Diego, where Nakashima grew up.
"It's a good combo and we hope he can keep growing," Vemic said. "As you can see there's a lot of talent, a lot of potential, great focus, great calmness about him. We will see. We are going one step at a time and we are being very patient and meticulous in our approach."
Vemic was a Top 200 player in singles and No. 31 in doubles during his own career and has coached the likes of Novak Djokovic, Bob and Mike Bryan, Filip Krajinovic and most recently Kaia Kanepi. The 44-year-old is also the Serbian Davis Cup coach and he sees a lot of Djokovic in his new pupil.
"It's actually getting closer and closer to Djokovic, even though he would probably prefer to maybe play like Federer, but he has a two-handed backhand so he might as well play like Novak," Vemic said.
"When I started to get older, I started to realize that my game was maybe most similar to Djokovic out of the top guys," Nakashima said. "So I don't really try to imitate or mimic anybody, but I just try to stick to my game, and I think that's probably most similar to Djokovic's."
There might not be a greater compliment than being compared to a world No. 1.
"Extraordinary players have extraordinary talents," Vemic said. "And I think his will be very valuable now and in the future."
Nakashima is taking his talents and growth seriously this season by putting in extra practice hours and getting out on the doubles court alongside two-time major winner Rajeev Ram. At 18, it's more about development than wins.
"More than anything, I think [my goal is] to just trying to develop my game and keep improving my game, especially at this young age," Nakashima said. "So when I do end up playing those Grand Slams and getting to those high-pressure moments, my game would be built for those moments."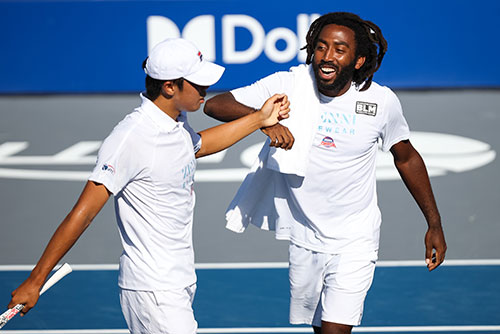 Off the court, when the quiet Californian isn't engrossed in tennis, he's playing golf, body surfing or watching a little bit of reality TV. Given how new he is to the tour, Nakashima didn't know any of his Chicago teammates except Evan King (from the ATP Challenger tour). He's getting to know everyone fast, even giving teammate Eugenie Bouchard a brief shoulder massage when she earned the Player of the Match honors after a big win.
"We're getting him out of his shell a little bit," Bouchard said. "He's on the wrong team if he wants to stay introverted. He's so cute, we all love him. He's a little bit shy. We're all just making jokes and having fun as a team."
"He's a very introverted person, but he's very funny," Vemic said. "Once you get to know him, he just cracks jokes. He's that guy."
Nina Pantic is a tennis writer, editor, podcast host and content producer. She played collegiate tennis at UCLA. You can follow her on Twitter at @NinaPantic1