White Sulphur Springs, W. Va. — In a year riddled with cancellations on court and off, Jack Sock still has a very big day to look forward to. The 27-year-old is getting married to Laura Little on December 12 in Charleston. And yes, the wedding is still very much on.
"It was weird at first because when everything hit, I felt kind of guilty and put it on pause and held off on everything," Little said, while watching Sock compete for New York Empire against Orlando Storm on Thursday.
The planning has been kicked up a level recently, filling up time in the back end of the shutdown.
"We did a lot of wedding planning and kind of kept busy just making sure we've got everything figured out," Sock said.
Though the American has been based out of Kansas City, Kansas for most of his life, he has spent the last year in Little's hometown of Charlotte, N.C., and the duo are closing on house soon. Little is a professional dancer and model, the 2019 Miss North Carolina USA, and works for Monster Energy.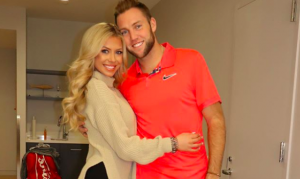 They got engaged last December in New York City, and there's still some work to be done before they say, "I do" in front of 150 guests. So far, they've got a few big items checked off including the venue, wedding planner, photographer and videographer.
"I think it's natural we've procrastinated on a few things, but we've gotten the venue down," Sock said. "It's more the little details that are left."
"Next week I'm going for the tastings and picking out the menus," Little said. "I'm trying out the dress the following week so it will come together. He likes to be involved, but we didn't realize how much work goes into it."
He and his future wife did get to do a recent photoshoot at the venue, which is The Ocean Course Clubhouse on the barrier Island of Kiawah, about 25 miles south of Charleston.
"We got to visit the venue when things started opening up again and he's obsessed with it because they have golf courses," Little said, adding that the ceremony is on the same beach as Outer Banks' Midsummer Night's Ball scene.
This season at The Greenbrier, Sock can work on his golf game as well his tennis game since the resort boasts three beautiful courses. He's a huge asset to the New York, having been ranked as high as No. 8 in the world in singles with four doubles major wins and an Olympic gold in mixed doubles.
On Wednesday, he posted an impressive 5-3 win over the Philadelphia Freedoms' Taylor Fritz—the highest male player in the field—to seal the 25-17 team win. He clinched New York's 24-16 win over Orlando after a 5-4 set over Tennys Sandgren on Thursday.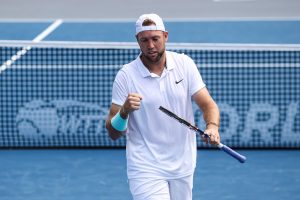 "I'd never even watched tennis and now I'm so into it," Little said. "I love it. It's exhilarating, it's stressful and exciting all at the same time."
Sock is in the midst of a comeback after setbacks and thumb surgery in 2019. He started his climb back up the rankings in February with a dramatic third-set tiebreak win over defending champion Radu Albot, followed by a run to the final of the ATP Challenger in Indian Wells.
"Without the people in my corner I probably wouldn't be here," he said in Delray. "Everything thanks to them for keeping my spirits up, keeping my positivity up, my belief up, because I didn't have a whole lot there for a while."
His people obviously include Little, who's getting used to being courtside.
"This has been a nice pause so I can focus on him and get used to being his support system," Little said. "Because when we first started dating, he was injured, then he was playing, then he was injured again and now corona hits. I'm trying to figure it out as a I go as well."
She already knows a few of the players very well. Sock's groomsmen include ATP players Jackson Withrow, John Isner and Nick Kyrgios. Though friends long before Laver Cup, Sock, Isner and Kyrgios have competed together for Team World.
"It was tough because I had my Kansas City friends that I grew up with my whole life," Sock said of choosing his bridal party. "And then I've been in Charlotte for basically a year now."
"Most of the friends that he's made and throughout life has been through tennis," Little said. "So to finally have all of our friends and family—his tennis friends and my cheer and dance friends—collide, I think it's going to be the best moment ever."
Nina Pantic is a tennis writer, editor, podcast host and content producer. She played collegiate tennis at UCLA. You can follow her on Twitter at @NinaPantic1