Kim Clijsters isn't the only Grand Slam champion at The Greenbrier this season, but she's the only player fresh out of retirement. As she competes for New York Empire, everyone is excited to see her back, even her opposition.
"Kimmy is awesome," Chicago Smash's Bethanie Mattek-Sands said. "We were all stoked for her big comeback this year. It's great that she's out there.
Clijsters made her 2020 debut Monday with a singles win over Washington's Bernarda Pera but she'd drop the doubles set with Kveta Peschke and New York would fall, 21-20. On Wednesday, she posted impressive wins during New York's 25-17 victory over Philadelphia. In her 5-3 performance over reigning Australian Open champion Sofia Kenin, she showed off some vintage Clijsters tennis: powerful serving, excellent court coverage and untouchable baseline consistency.
"She's brought her team here. She's into it," New York coach Luke Jensen said. "There's a reason why she's back playing professional tennis. There's a desire in there before that window closes to say I want to give it one more shot. Now she's just proven herself in WTT against the No. 4 player in the word."
Cljisters' teammates and competitors are understandably a little taken aback by her.
"When I grew up my idol at the beginning was Monica Seles and then Kim Clijsters," Orange County's Andreja Klepac said. "Maybe I'll get a chance to play against her, so it's exciting for me."
"I didn't know how to react when I was told I was going to play mixed with her," Neil Skupski said. "[I was like] what side am I going to play? You do everything you want to do. But then she was like you tell me where to serve. It worked really well."
A lot of buzz, especially from within the quarantine bubble, is surrounding every match she plays.
"She's a wringer, she's a gamer, she's going to rip the ball," Mattek-Sands said. "I'm excited to play against her."'
Clijsters' pedigree is elite. Since turning pro in 1997, she has won 41 singles and 11 doubles titles. She has four Grand Slam titles to her name, plus two in doubles and held the No. 1 ranking simultaneously in 2003. Along the way, she's left the best impression everywhere she's traveled. Jensen called her the "sweetest person in the world."
She just simply can't quite seem to leave tennis alone. When the Belgian isn't playing at Creekside Stadium, she's been spotted sitting in the stands watching matches, including last night when the Freedoms beat the Lasers.
"She's has to scout a lot of these players because they were just kids when she was playing," Jensen said. "She has to go back to not being an analyst, but actually being a competitor and seeing how these players play."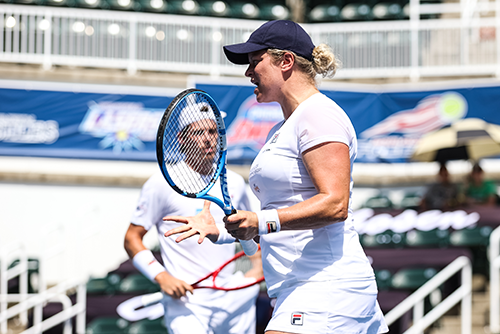 During her lengthy seven-year break from the tour, Clijsters stayed busy at the Kim Clijsters Academy helping train the next generation, raised her children and did some commentary.
The 37-year-old mother of three has now come out of retirement twice. In 2007, she left the tour to have her daughter Jada, and then came back to win two US Open trophies. In 2012, she retired again, and it looked like it would be for good as she had two more children, Jack and Blake. She was even inducted into the Hall of Fame in 2017.
"Normally you coach someone to the Hall of Fame, we get one from the Hall of Fame," Jensen said.
During her induction speech, Clijsters listed optimism and patience as two of the eight important lessons she learned during her career.
"Optimism: That is having the right attitude to deal with adversity and negative moments it's important to stay positive," she said. "I'm not just talking about tennis, but in life overall."
Her positive attitude has been as famous as her ability to do the splits mid-point. Patience has been a continuing lesson given the current climate.
"With three kids you learn to have a little bit more patience," she said. "It's definitely been challenging, but it's the same for everybody. Being patient is what you have to be and keep setting little goals even though sometimes it's hard to predict what's coming up ahead."
The timing in March couldn't have been worse for Clijsters as she had gotten to play just two events, losing to Garbine Muguruza in Dubai and Johanna Konta in Monterrey.
"The question I've gotten a lot in Belgium from media is: 'Do you still want to go through with it and do you still want to keep playing now with everything that's going on?'" Clijsters said. "It doesn't mean because COVID happened that I'm not interested in playing more tennis. There are some challenges and combining parenting at home and still going to practice and things like that… You just try to see the positive things out of moments that you're in and that's another big lesson that you learn."
With her children getting a little older (Jada is 12, Jack is six and Blake is three), she's naturally had more time to work on her comeback. Ahead of the season's start, she trained in New Jersey with her family on hand, but they haven't made an appearance at The Greenbrier just yet.
"They are coming later," she said. "It was nice to come here and just do the last few days of training without them. They're actually driving down in a few days so it will be great. I'm happy to share this experience at this resort."
Coming back after having Jada certainly worked out for her, so who knows what this comeback could bring for the New York Empire.
Nina Pantic is a tennis writer, editor, podcast host and content producer. She played collegiate tennis at UCLA. You can follow her on Twitter at @NinaPantic1