WEST SULPHUR SPRINGS, W. Va. — Chicago Smash is in its infancy as the newest WTT 2020 team, but it certainly doesn't look that way on the court. The stacked roster includes Sloane Stephens, Eugenie Bouchard, Rajeev Ram, Evan King, Brandon Nakashima and Bethanie Mattek-Sands.
They're 1-1 so far, but there's a lot of tennis ahead of them and team chemistry will play a big role as the season carries on. It's going to help that the Chicago roster is deep in both talent and friendships.
Bouchard and Stephens are longtime friends, having both trained at the Saviano High Performance Tennis academy. In 2017, they teamed up to reach the Citi Open final in Washington. Stephens' coach—on and off since 2017— is Chicago's Kamau Murray. Nakashima is only 18 and in his first year on the ATP tour, yet he named King as a familiar face from the ATP Challenger tour.
And then there's Mattek-Sands, who is arguably the most well-connected active tennis player on the planet. She has been on the scene since 1999, been ranked as high as No. 1 and has won nine doubles Grand Slam titles. It's almost impossible for any player to not know who she is: she's extremely recognizable for her colorful outfits, bold tattoo, edgy haircut and bubbly personality.
The 35-year-old and her teammate Ram go way, way back.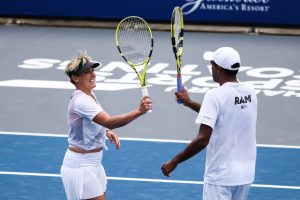 "When I lived in Wisconsin I would drive down to Chicago because there was a tennis academy there," she said. "That's where I first met Rajeev. So I've known Rajeev since I've been 7 or 8 years old."
Mattek-Sands and Ram's history is unique for another reason. In the gold-medal match for the 2016 the Olympics, Mattek-Sands paired with Jack Sock to beat Ram and Venus Williams in a deciding third-set tiebreaker.
"That was the second year of mixed doubles, so no one had ever played together before," Ram said. "It was pretty cool that it worked out the way that it did. Unfortunately, we didn't win, but other than that it was cool."
Leave it to Ram to not hold a grudge. Now they're on the same side of the net and picked up their first win on Sunday against Vegas Rollers' Asia Muhammed and Mike Bryan.
"Mixed doubles should be played more often," Mattek-Sands said. "What other sport do men and women play on equal [terms]? It's not like the guys take it easy on me, and there's times where the girl is not the weaker link either."
Her Chicago connections don't end with Ram.
"I was actually with Genie and Sloane in Charleston for the team event there," Mattek-Sands said. "I feel like we're all playing pretty well, everyone's been training, everyone's looking pretty sharp. And it's fun. It's fun having everybody behind you on the bench."
She captained Team Peace against Stephens' Team Kindness for six days of team tennis. Danielle Collins was also on Team Peace, but this month she's suiting up for Orlando Storm. On Tuesday, Collins helped beat her former captain's team, 21-16.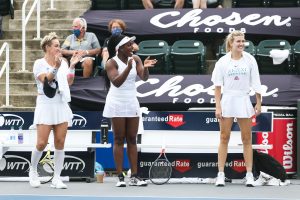 "Bethanie is one of my best tennis friends," Collins said after her 5-0 singles win over Stephens. "My teammates did a really great job playing against her. I think we're all just having fun out there. Even competing against her, I'm sure we'll probably still get some dinner later tonight."
Mattek-Sands' natural advantage anywhere she goes—and on any team she joins—is that everyone is at ease around her. Even during quarantine, the Arizona resident found a way to keep in touch with her colleagues by hosting Tennis United, a weekly show where she interviewed ATP and WTA players.
"I was really going to start in Indian Wells doing behind the scenes stuff for the WTA," Mattek-Sands said. "Players are comfortable with me. And this all happened, so I said we should continue to do this [virtually] and just keep up with players."
Her many guests have included fellow WTT players like Bouchard, Coco Vandeweghe, Kristie Ahn, Jennifer Brady, Jack Sock, Tommy Paul, Taylor Fritz and more. Mattek-Sands' biggest challenge this season will be remembering not to high five or hug anyone when she gets excited.
"For me it's tough because I didn't realize I was so handsy," she said. "It's been a little challenging. But obviously we want to be respectful of everyone's health and safety. We think it's an important image to put out there."
Nina Pantic is a tennis writer, editor, podcast host and content producer. She played collegiate tennis at UCLA. You can follow her on Twitter at @NinaPantic1