WHITE SULPHUR SPRINGS, West Va. — Steve Johnson arrived at The Greenbrier on the heels of a life-changing announcement: He's going to be a #girldad.
"Probably a little less time on the golf course for me now, in December [we will] welcome our baby girl in this world," the Orange Country Breakers star said. "My wife and I are so happy to get a chance to start a family."
The 30-year-old Californian married photographer Kendall Bateman two years ago. As a big part of a tight-knit WTT community, Johnson will be able to pick up advice from the likes of new fathers Sam Querrey, Mike Bryan, Marcelo Arevalo and even Taylor Fritz, who has a three-year-old.
Johnson already put in some valuable baby training hours on his way to White Sulphur Springs since he flew on a private jet with Querrey and his five-month-old son Ford.
"It's just so cool to see this chapter in all of our lives because Sam and I have grown up together," Johnson said. "We've come a long way from being 10, 12, 14 playing junior tournaments to being in this stage in life when we're starting families. Time flies."
Orange County Breakers' coach Rick Leach was on the same chartered flight, and he's confident in Johnson's future.
"Steve was like Uncle Stevie holding the baby," Leach said. "I think he could be the baby whisperer."
"I wouldn't put that high on my resume sheet yet," Johnson said, though he's had some practice already as his sister-in-law and sister both have children.
With the due date six months away, Johnson has some time to tune up his baby whispering game. Right now, he's focused on his tennis game for a season with the Orange County Breakers alongside Jen Brady, Andreja Klepac and Luke Bambridge. The four-player squad is the smallest in the league, but still a contender with everyone inside ranked inside of the Top 65.
Brady is coming in with some matches under her belt after playing the Charleston exhibition, while Johnson competed in both Miami and Atlanta. He boasts the most team tennis experience, with five WTT seasons and four years at the University of Southern California under his belt.
"He was such a great team player at USC, I think he's a great asset to have on our team," Leach said.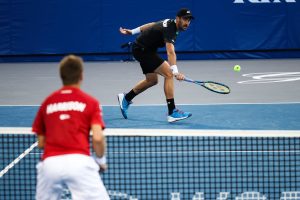 Great might be an understatement given Johnson is the best player in USC history. He won two NCAA singles titles, helped capture four NCAA team championships and ended his career on a 72-match win streak.
Since turning pro in 2012, Johnson has won four ATP titles and been ranked as high as No. 21. His doubles game has kept up with his singles success, with five ATP final appearances (one trophy win in 2016) and a bronze medal in Rio.
On top of all the success, the world No. 63 has long been one of the friendliest characters on tour. Though masks are covering faces this month at The Greenbrier, he's usually sporting a big grin along with very creative facial hair. He was rocking a full mustache long before quarantine made bold facial hair trendy.
"Steve's just a great person," Leach said. "He's fun guy. He's a likable guy that everybody likes to watch."
There's a saying that you don't truly become an adult until you have children. While Johnson seems ready for dad life, he's still hoping it won't change him too much.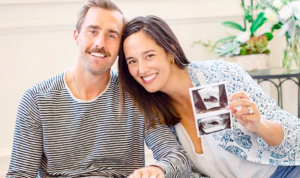 "I don't want to grow up because I feel I don't want to lose my personality," he said. "There's definitely new pressure, new stress, I think, having a child in this world."
What might change will be his travel schedule—something that's been flipped upside down the last four months for far different reasons.
"I don't think I'll be too excited to leave home too often once [we] have a baby," he said. "It's going to be interesting. I think my schedule will change a lot."
Still, Johnson's not against bringing his daughter on tour, especially seeing how Querrey and Bryan are towing newborns this month.
"Hopefully the world kind of calms down here with everything and traveling gets a bit easier," he said. "There's a lot of hurdles to cross in this family aspect."
It helps to have a supportive wife and friends.
"Thankfully my wife is great and will hopefully tell me when I doing things wrong and kind of steer me in the right direction," he said. "I'm going to learn from Sam and these guys; see what mistakes they make and then learn from them."
Nina Pantic is a tennis writer, editor, podcast host and content producer. She played collegiate tennis at UCLA. You can follow her on Twitter at @NinaPantic1