White Sulphur Springs, W. Va. —  The 2020 season of World TeamTennis is ready to unleash 66 live matches on a sport's thirsty world, and it's going to be a wild ride. Against all odds, the league will have its full 45th season amidst a COVID-19 destroyed sports calendar.
Play will start on Sunday and run for three weeks with non-stop action taking place on one court. Getting to opening day is a testament to CEO Carlos Silva's dedication.
"It is very important that we gave everything that we could to make 2020 happen," Silva said. "As I've said to others along the way, it only takes 30 seconds to cancel the season. We worked very hard every single day trying to figure out what is the right thing to do that would allow us to play, but also make sure that our players and our staff would also be safe."


Holding the usually travel-heavy season entirely in one place was crucial and finding a fan-friendly partner in The Greenbrier was a huge factor.
"I think that's great that we're not going to have to travel to several different cities. Once we get there, we'll stay there," San Diego Aviators' Christina McHale said. "I'm really excited because it's been months since I've last played a competitive match, but that environment is so fun."
Located in White Sulphur Springs, West Virginia, the resort is hosting 175 WTT participants, which includes players, coaches, TV production and WTT staff. A five-star hotel that dates back to 1778, The Greenbrier is loaded with history, open terrain and 11 tennis courts (five are indoors).
"We talked about going back there once every year even when we are retired," said Vegas Rollers' Bob Bryan. "It is a vacation spot and it is a beautiful place to play tennis. The stadium is on the side of a mountain, kind of carved in there. It's really a jewel for tennis."
It's also going to be loaded with safety protocols, with a rapid testing center on-site.
"They have assured us that they are taking all the necessary steps and precautions to make sure that this is as safe an environment as it can be," McHale said.
All WTT participants will have to pass temperature checks and undergo multiple COVID-19 tests, including before traveling, upon arrival and halfway through the season. A positive test will render a player ineligible to compete as was just seen with Frances Tiafoe. You can't turn a corner in the sprawling hotel without running into a hand sanitizing station or mask and social distancing reminder.
"I feel relief in knowing all the measurements they are taking to try to bring tennis to West Virginia and make sure that everything is organized so well," New York Empire's Kim Clijsters said. "It makes it really, really comfortable for the players and for everybody involved."
Up to 500 fans (20 percent of the stadium's capacity) will be allowed in for each match with social distancing, mandatory masks and temperatures below 100.4 °. Fans are a huge part of the WTT experience, injecting energy into the fast-paced team competition.
"That 20 percent level felt really good, it felt really safe, but it's also really good that from the hotel to court, players can walk," Silva said. "If [a fan] doesn't want to wear a mask, that's OK, they don't have to come into the stadium. If they want a refund on their ticket, we would be happy to give them a refund."
Fans will really want to stay in their seats.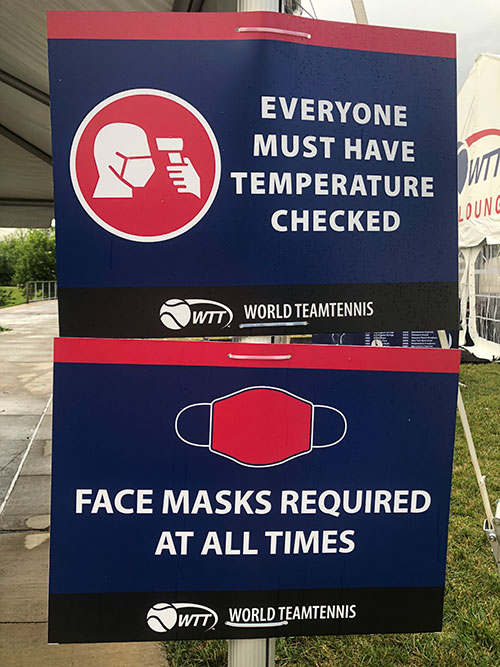 "We've played 22 years, and this is, I think, by far the strongest field we've ever seen," Mike Bryan said. "Every team is stacked with Grand Slam champions, legends, newcomers. I mean, there is nowhere to hide. Every day we wake up at The Greenbrier we're going to go out there and play a nasty squad."
Australian Open champion Sofia Kenin is joining the Philadelphia Freedoms, Venus Williams will play for the Washington Kastles and 2017 US Open winner Sloane Stephens is representing the Chicago Smash. More popular names include Sam Querrey, Danielle Collins, Eugenie Bouchard, Jack Sock, Coco Vandeweghe, rising stars Caty McNally and Brandon Nakashima, and fan-favorite veteran Clijster.
"It's a great chance to train with your team, play with the guys, play doubles, play mixed doubles, and more," Clijsters said. "I think it's an exciting few weeks coming up for all of us after having been home for a few months."
Usually, the league has to entice players away from a number of overlapping tour events and originally this year, the Olympics. There is more on the line than just match experience as players will battle for the King Trophy, a record $5 million in prize money and Universal Tennis Rating points.
What's also different this season is that players are committed to the full three weeks as, due to safety reasons, they cannot come and go as they please. In the past, marquee players have just dropped in for a handful of matches.
"You are going to bond with your teammates, and it is going to feel like a family," Mike Bryan said. "By the end of the three weeks you're going to be willing to die for them, it just becomes more intense."
The schedule, which runs from July 12-August 2, will be packed with some days even featuring four matches. It will still be a welcome change of pace for players itching to get back to work and fans yearning to see them compete.
"It is really fast play, so it will be really interesting to see how people play after not playing for a while," Stephens said. "Everyone is looking forward to playing, and with some of the best players in the world you have to watch, right?"
All matches will be aired live on CBS, CBS Sports Network, ESPN 2, ESPN+, Tennis Channel or Facebook Watch.
Nina Pantic is a tennis writer, editor, podcast host and content producer. She played collegiate tennis at UCLA. You can follow her on Twitter at @NinaPantic1