The Springfield Lasers are once again hoping to catch a rising star.
The two-time defending World TeamTennis champions will feature Caty McNally on their 2020 roster. The 18-year-old American is an up-and-comer on the tour, with her first Australian Open singles win under her belt and a top-40 WTA ranking in doubles play.
"She's had great success already, especially in doubles," Lasers general manager Paul Nahon said. And he's right. McNally teamed up with Coco Gauff, another rising star, to advance to the quarterfinal in Australia. "It's great to see her rising in singles, too. She's a very strong player."
Two years ago it was Miomir Kecmanovic in the rising star role for the Lasers. He, too, was 18 in his first WTT season and ranked No. 187 in the world. After helping the Lasers to win their first two titles in franchise history, Misha is ranked 47th.
:: Springfield Lasers 2020 Schedule ::
Now it's McNally's turn and she's excited to be part of the league.
"I've watched (WTT) over the years on TV," she said. "It gives me a chance to get a lot of matches in and play singles, doubles and mixed. And being in a team environment is something you don't get to do too much in tennis, so it's going to be fun. I'll get to meet new people and make new friendships."
She's met plenty of new people in the tennis world already. McNally has chatted with Roger Federer and hit with Venus Williams. She's also impressed opponents like Sam Stosur, whom she defeated in Melbourne. Stosur later told the media McNally is going to be an up-and-coming player.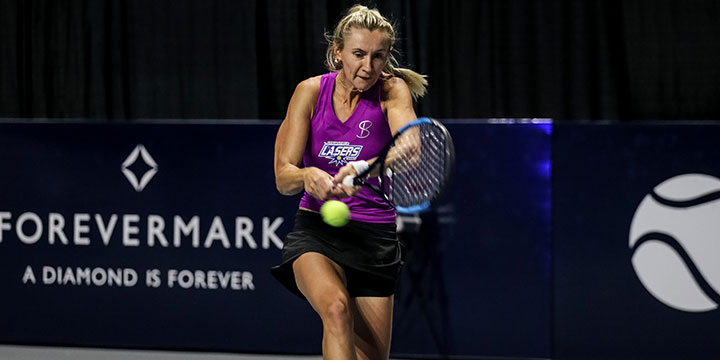 "I'm honored to have that title written next to my name, but I'm just trying to get back to work, do my thing and not worry too much about what the media puts out there," McNally said. "I want to focus on my game and myself as much as possible."
McNally will be teaming up with several WTT veterans, including Robert Lindstedt and Jean-Julian Rojer. Lindstedt returns after earning the MVP award in the 2019 WTT Finals. The 43-year-old Swede has stayed in good health and Nahon is impressed with Lindstedt's intensity.
"He's got phenomenal speed and hands," Nahon said. "When you look in eyes when he's on court, he has an intensity and focus you see in very few players. He's zoned in on the court and on the match, and we saw that in the finals. He wasn't going to let a single ball get past him."
Rojer is back for his fourth season with the Lasers. The high-energy doubles specialist had hoped to be playing in the Olympics instead, but Nahon said he's excited to be back in WTT.
"He's got lots of experience on the tour and lots of titles, so he's very stable in doubles. That's a critical component of success for us," Nahon said. "We consider him our franchise player. He's a leader and he allows us to have three players on the roster throughout the season."
Mitchell Krueger rounds out the men's side of the roster. Nahon describes the young American as a "big, strong kids."
Olga Govortsova returns on the women's side. A late addition to the 2019 roster, she provided stability at singles and rallied from a 2-4 deficit to win women's singles and send the Lasers back to the WTT Finals.
"Her ranking increased after the end of last season and she was on her way back when COVID happened," Nahon said. "She's around 200 right now, but very capable of climbing back into the top 100."
Hayley Carter is also on the roster. The former University of North Carolina standout is playing her first season in WTT and is ranked No. 60 in doubles.
"She's been on the tour long enough to have experience, which is a big plus," Nahon said.
And then there's coach JL de Jager, back for his 13th season at the helm of the Lasers. The team has made five playoff appearances in his tenure.
"I have a lot of respect for JL and his ability to coach," Nahon said. "He's a no-nonsense coach and sets high expectations, and the players respect him for that. He's got a great ability to bring teams together and typically by the end of the season he's got everyone firing on all cylinders."
World TeamTennis 2020 At The Greenbrier
Center Court at The Greenbrier