LAS VEGAS — Monica Puig spent one weekend with the Vegas Rollers last summer, the only time she'd ever participated in World TeamTennis.
Then disappointment set in.
Not knowing what to expect, she loved her cup of coffee in WTT and was bummed it didn't last longer.
Now she's freshly brewed for an entire season, and with her aboard, the Rollers are solid contenders to make the playoffs in just their second season in the league.
"I'm really excited to be back for a full season this time around," Puig said recently. "When I heard that the World TeamTennis season was going to go on, I immediately asked my agent to see if there was a way to get on a team. We had such a great team and we all get along so well, so I'm really excited to back to the Vegas Rollers and see what this new experience is going to bring in Greenbrier."
Puig joins veterans Mike and Bob Bryan, who are set to compete in their 18th WTT campaign, and eighth-year vet Sam Querrey. Asia Muhammad is also back joining first-year player Kristie Ahn.
"It's going to be a great mix and the team chemistry is something that's really important and I think we have a great group of players who are really gonna get along and back us all the way," Puig added. "Hopefully, we can make a good run. I know we had some great matches the last time I was playing for the Rollers, so hopefully we can make a stretch and hopefully make it to the semifinals and finals."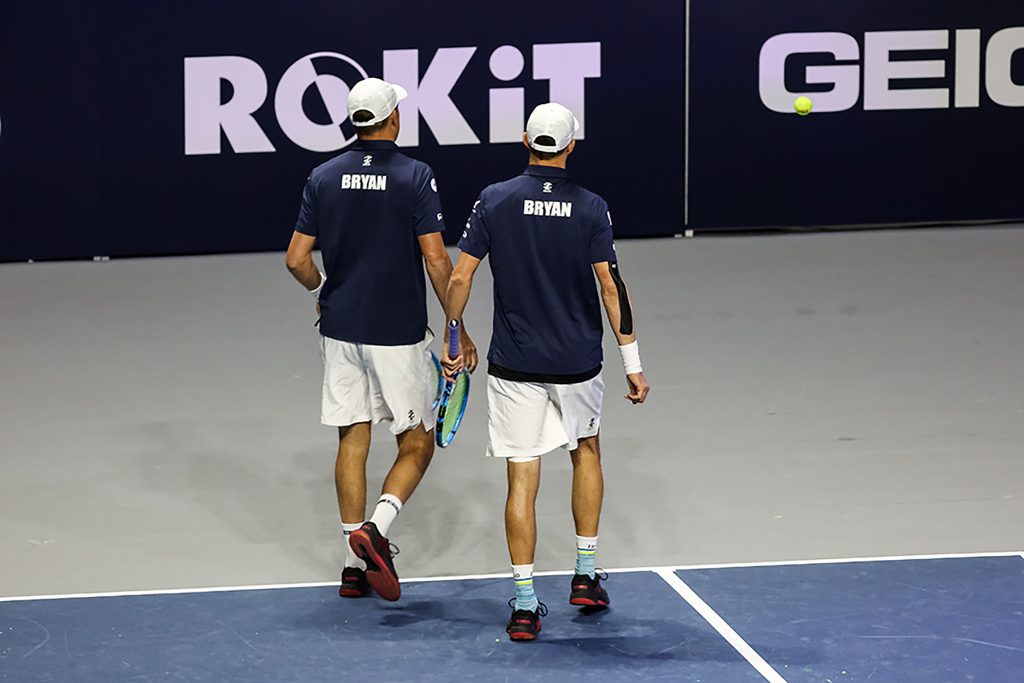 Said Mike Bryan: "It is going to feel like a family. By the end of the three weeks you're going to be willing to die for them, it just becomes more intense. You're going to see that on the court."
Coach Tim Blenkiron is certainly convinced he has the right blend and considering the circumstances that have forced every team to West Virginia due to the coronavirus, he likes his team's chances even more.
"I think the most challenging part last year was the travel," said Blenkiron, whose Rollers played in four cities over five nights during one stretch last season. "I think that element is going to be awesome. I thought the field was pretty strong last year. And because of the coronavirus, it's gotten a lot stronger (this season). There's not much going on, so a lot of people are going to be tuned in. I think we're lined up to have something pretty special happen this season."
And Puig certainly is a big reason.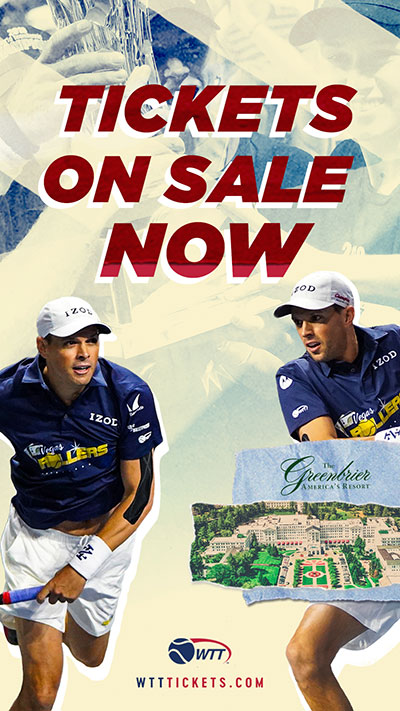 Teaming with Muhammad, who will be playing her third WTT season, Vegas' charts are balanced on the women's side. Regardless of who is playing the women's singles match, Blenkiron has two of the strongest young competitors from the WTA on his roster.
Puig has won gold medals in women's singles at the Rio Olympics in 2016, and at the Central American and Caribbean Games in Veracruz, Mexico in 2014. She peaked at No. 27 overall after her gold in Rio.
And while Puig will likely handle most of the singles duties, she couldn't ask for a better doubles partner in Muhammad, who has a career 320–172 (65.0%) mark in doubles with five titles.
Add in Ahn, who Blenkiron said is one of the most intelligent students of the game he's ever seen, he should be able to breathe easy regardless who he turns to on any given night.
"I think there's a big advantage in that we have a lot of team chemistry," Blenkiron said. "Everyone except for Kristie played together last year. Despite not getting the results that we wanted, we still almost made it (to the playoffs). We've got the players to get it done."
On the men's side, it's hard to argue against the triumvirate of hard-serving Querrey and the Bryan brothers, the most successful men's doubles team in history.
The 41-year-old twin brothers have an impressive list of tennis records, including 16 Grand Slam doubles titles and over 1,100 matches. They share a career winning percentage better than 75 percent. The Bryans have captured an Open Era record 118 titles, including each of the four Grand Slams at least twice, all nine ATP Masters 1000s, ATP Finals (four titles) and the Olympic gold medal.
"I think it is going to be an incredible training ground, you will see players treating it like a preseason to get themselves back in shape," Bob Bryan said. "The level of play is going to be better than it ever has because we are in one spot."
Querrey, who was named to the 2020 WTT All-Star Match, owns career wins over all-time greats Novak Djokovic and Rafael Nadal, and brings one of the hardest serves in the league to Greenbrier. He also has a WTT championship pedigree, after winning the title with the Washington Kastles in 2015.
"I look forward to playing for the entire season as we try to lift the King Trophy," said Querrey, who is also a member of the USA Davis Cup team.
Blenkiron said he felt Vegas boasted the strongest team immediately after the draft, but since then, with so much interest in WTT after the professional tours were shut down, the teams have become a lot more even.
"Everyone will have the same advantage; I think it's more the players keeping perspective and keeping loose and not putting too much pressure on themselves," Blenkiron said. "The thing with World Team Tennis, you gotta get a little bit lucky and you've gotta have consistent performances. You have one bad performance and it's very tough to make up for that. All of our players have to take accountability for not getting blown out basically. We have the players to blow other teams out."
The Rollers will look for their first blowout July 12, when they open the season against the Chicago Smash, who will be led by Sloane Stephens.
World TeamTennis 2020 At The Greenbrier
Center Court at The Greenbrier