New York Empire coach Luke Jensen loves group chats.
Whether it's motivation or comedy, he does his best to keep his players enthused.
"He's an energetic coach, I don't think he ever sleeps," fifth year WTT veteran Neal Skupski said. "I don't really know some of the people on the team, so it is nice to start to communicate early so we're all settled in before arriving at the Greenbrier. It's been going well, Luke's making a lot of jokes on the group (chat), which is kind of easing everybody in."
Not as if Jensen, Skupski and Mardy Fish need any more inspiration.
The trio returns to the Empire after the team completed an incredible worst to almost-first campaign last year. After finishing dead last in 2018, New York shocked many observers when it made a run to the championship match in Las Vegas last summer and was on the brink of the title with a lead heading into the fifth set against Springfield.
So as the Lasers come in as the defending champs, New York heads into this season with unfinished business.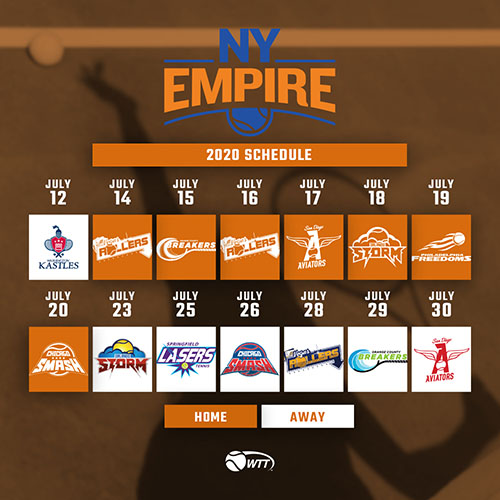 "We've kept a couple of the players from last year, so there's a bittersweet part (for) them," Jensen said. "It sticks with me; it sticks with Neal because he had the last swing at the ball and just missed it wide. So, the job isn't finished."
The job, as he puts it, falls on a talented roster that includes new faces, including former No. 1 women's star Kim Clijsters, 2011 Wimbledon doubles champion Kveta Peski and the sleeper of the bunch, Jack Sock.
"We are loaded," Jensen said, "but so is everybody else this year."
Which is where the group messages come in, as Jensen has his troops loose and ready to converge on The Greenbrier, a 242-year-old resort that is set to host the entire season. He's even instructed his players to bring golf clubs so they can compete in a Ryder Cup-like competition before the season gets underway.
"There's a fun exuberance to the new setting being at one place, I think it's going to be fun," said Jensen, who will be in just his second season as a WTT coach after playing nine seasons in the league. "They've already been cranking it up for the last month or two. There have been some players who needed to disconnect, they needed to heal their bodies, maybe heal their mind a little bit and get some rest from it.
Which is why he's reminded his players to break out the jump rope and execute sprints because it's not just about hitting the ball and getting court time.
"It depends on the individual, some people don't need a lot of practice," Jensen said. "Whoever gets off to a quick start, which means who's been dialed in on their fitness. If you're not fit, you're gonna be left behind, the speed of the game is gonna get past you. Have you been doing your running, your lifting? You gotta get out of the gate fast in this format, and you gotta finish. There's no easing your way into the competition."
For Sabine Lisicki, she'll be depending on guidance from Jensen and her teammates.
"I'm the rookie in the whole group, I don't really know what to expect," said Lisicki, who will make her full-season WTT debut. "So, it's been good to have a fun and easy start with everybody and get to know everyone (in the group chat) as well. I'm really looking forward to doing team competition. We hardly get to play that, and I think that's the most fun and exciting part. The team can lift you up when you maybe don't feel your best, or they can play even better when you're playing awesome."
The former German No. 1 player who has won four WTA singles titles was a finalist at Wimbledon in doubles (2011) and singles (2013), and adds strength to New York's women's roster, along with Clijsters and Peschke.
Clijsters, a four-time Grand Slam singles champ, has reached the world No. 1 ranking in both singles and doubles during her career, and has 41 singles titles and 11 doubles titles on her resumé.
Peschke completed her eighth season of WTT with the Washington Kastles in 2019 as a substitute. Peschke is also a former world No. 1 player, as she reached the pinnacle of WTA doubles in 2011. She peaked in singles at No. 26 in 2005.
And while Fish and Skupski bring a wealth of experience – and the revenge-factor from last summer's finale – Jensen believes Sock is the person who will shock others and could be the key component when it's least expected.
"He can really do it all. His forehand is bigger than (Rafael) Nadal's," Jensen said. "He hits a bigger ball than Nadal. He's also notorious as a quick starter out of the blocks. I've done all the analytics, and he's our sleeper."
Jensen knows it won't be easy, though, with all teams in one location, everyone getting proper rest and most of the premier names playing the entire season.
"I think this is going to be one of the greatest years of World Team Tennis because of 66 matches over 200 hours of broadcast – I think it's going to be as competitive as anything," he said. "The quality of the tennis is going to be a lot better. By the time we get out of this, I wouldn't be surprised if we have some U.S. Open champions come out of this situation."
Said Skupski: "It's good for World Team Tennis that a lot of the top stars will be playing at the Greenbrier. It's exciting for tennis fans as well, because they'll be able to watch for three weeks, world-class tennis on TV and hopefully we can put on a good show.
"I'm looking forward to this season really just to go into the season and try to do it all again."
World TeamTennis 2020 At The Greenbrier