CARLSBAD, Calif.  — With teams set for the WTT Celebrity All-Star Match, stars will come from throughout the league to play in the one-day event at Omni La Costa Resort in Carlsbad, California.
Team Sharapova will feature CoCo Vandeweghe, Monica Puig, and Ryan Harrison playing for captains Maria Sharapova and Mardy Fish. Captain James Blake's Team Bryan Brothers squad is composed of Sam Querrey, Madison Keys, and Taylor Townsend, as well as co-captains Mike and Bob Bryan. It's a roster worthy of its all-star nomenclature, boasting a combined 346 titles, 41 of which are majors, seven Olympic medals, and a staggering $129 million in total prize money. While the players all bring their own strengths, skills, and personality to the court, their main reason for playing is the same: the desire to play in the unique team environment of World TeamTennis.
"Tennis is an individual sport for 95% of the year and World TeamTennis lets you play on a team with men and women, which is fun," says Querrey, who will return to play for the Vegas Rollers in the 2020 WTT season. "I've played World TeamTennis for eight years, and it allows me to become friends and teammates with people that I normally would never know or interact with. Some people that I've played World TeamTennis with eight years ago, we've remained friends, so that's my favorite part about it."
It's a sentiment shared by team captains Fish and Blake. "I love team tennis. I love World TeamTennis," says Fish, a former world No. 7 and Team USA's current Davis Cup captain. "I played in a multitude of seasons but I've played for a bunch of years — maybe close to 20 years now from when I started playing it to this year. The format is super fun. We don't get a ton of team-oriented tennis these days; that's one of the reasons why I love Davis Cup so much."
"I always loved the camaraderie, I love the team atmosphere," echoes Blake. "I wish there was a way…you could make even more team matches because there's so much pressure put on and so much attention toward the individual results. That's understandable, it's an individual sport, but I wish there were a lot more team competitions. You just get something, some sort of connection when you go through highs and lows together, when you work hard together, when you compete together, when you're really pulling for each other, not just kind of pulling for your friend just because you're friends, but because you're in something together."
Five-time Grand Slam champion Sharapova has been a devoted WTT player from the beginning of her career. "I've been part of [WTT] ever since I was a little girl," she remembers, adding that playing WTT garnered the crucial skills she needed to nab her first tour-level win. "It was really the event that gave me the experience that I needed at that age."
For many players, the pace and format of World TeamTennis is an essential way to practice playing in pressure situations and prepare for the remainder of the tour for the year. Townsend was named WTT's 2018 Female MVP; a surge in her singles ranking to a career-high coincided with the 2018 WTT season. "It's great for me. I get a chance to play singles and I get a chance to play doubles. I'm a singles player, but the doubles really helps translate to my singles game, and it gives me an opportunity to stay on court and continue to play matches," she says. "It helps me iron things out, gives me confidence, it counts but obviously not for points and for ranking, so it just gives you a way that you can stay competitive but also still work on things and just give yourself an opportunity to get better, but in a more fun environment and setting."
That setting is the true differentiator for players and spectators alike — the highest level of professional tennis in an almost party-like environment, complete with on-court DJ and cheering encouraged between points. Vandeweghe jokes that she receives about 30 ticket requests a night from friends when she plays in her hometown for the San Diego Aviators.
However, despite not having any rankings points on the line and the match's unconventional atmosphere, players take WTT play seriously, wanting to get the win not only for themselves but for their team and their fans.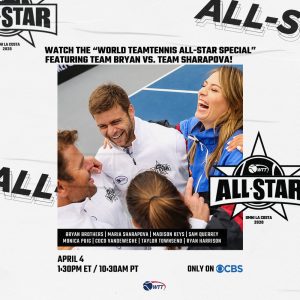 "You don't want to let your team down, so you're trying that much harder for everyone else sitting on the bench," says Keys, a four-time member of USA's Fed Cup team and a 2016 Olympian. "I think it's a lot about pride and emotion," adds Harrison. "You play for the city and you have a lot of fans who come out and want to watch and see their team do well. I always invest in every practice and match, and whatever it is, and no matter what's on the line, I'm going to try to put my heart and soul into it."
Like Townsend, Harrison can personally attest to the boost players get from the fast-paced, competitive atmosphere of World TeamTennis. In the year following his 2016 WTT championship season with the San Diego Aviators, he went on to hoist trophies in Memphis (singles) and Roland-Garros (doubles), and hit a career-high ranking of world No. 40 in July 2017. "That was a really pivotal time in my career," he recalls of the 2016 WTT season. "I was coming back from some injuries and some time off and it really helped me kickstart a really good season on the ATP tour. I always looked at [World] TeamTennis as a good building tool. The energy is high and it sets a good bar for the rest of the season."
Of course, playing in the league founded by Billie Jean King only adds to the appeal for players. Based on King's philosophy of men and women playing together and making an equal contribution toward their team's success since its creation in 1974, WTT's format has always had parity at its core — an issue that remains a frequent topic across the world of sports today.
"It's definitely an added bonus that it mirrors a lot of the things that I love and stand for as well, so being able to partner and be a part of it and know that it's Billie's legacy is always amazing," says Keys. "And then, it's kind of icing on the cake: my first time playing for WTT I played on [the Philadelphia] Freedoms, so I had Billie in the stands every home match. That was always great, and to now have such a close relationship with Billie is really special."
Highlights from the WTT Celebrity All-Star Match will air on a one-hour special exclusively on CBS at 1:30 p.m./10:30 a.m. on April 4th.
Don't Miss It!
What:  World TeamTennis Celebrity All-Star Special
When:  April 4 at 1:30 p.m. ET/10:30 a.m. PT
Where: Only on CBS!