In a league already known for star-studded rosters, World TeamTennis ups the ante in 2020 with its inaugural WTT Celebrity All-Star Match. The event follows WTT's standard match format of Men's and Women's Singles, Men's and Women's Doubles, and Mixed Doubles.
True to WTT's rich history of featuring the best players in professional tennis since its creation in 1974, the WTT Celebrity All-Star Match is an exhibition showcasing not only the current league standouts, but also some of the greatest to ever play the game. The two teams facing off will include active players from WTT teams throughout the league — Mike and Bob Bryan, Sam Querrey, and Monica Puig of the Vegas Rollers; Ryan Harrison and Coco Vandeweghe of the San Diego Aviators; the Orlando Storm's Madison Keys; and Taylor Townsend of the Philadelphia Freedoms — divided between Team Bryan Brothers and Team Sharapova. As the name suggests, five-time Grand Slam winner Maria Sharapova will serve as her team's captain, with former top-10 player and current Davis Cup captain Mardy Fish acting as co-captain. Team Bryan Brothers will be captained by former world No. 4 James Blake.
The match taps into a longstanding friendly rivalry between Blake and Fish, both veteran World TeamTennis players who have a tied head-to-head record in professional careers that significantly overlapped on the ATP tour. Both acknowledge that competition is an enduring part of their relationship. "We'll put something on it," says Fish. "We compete at pretty much everything, James and I, so we'll come up with something. It's not going to be 'my team against your team and then we just play it out for nothing' — that definitely doesn't happen with James and I. I'm going to try to take away all his confidence that day. I've got some stuff up my sleeve. Maybe I'll sub myself in for a game and then make James sub himself in because he stinks now," he jokes.
For his part, Blake believes he holds a solid advantage going into the match. The San Diego-area resident and former member of the San Diego Aviators says, "I've already started talking trash with Mardy. He's not coming into our house to take our title. I'm just kidding — Mardy and I have a great time — but I do feel like it's a home court."
While Blake's Team Bryan Brothers may have an assumed edge when it comes to doubles, he's quick to acknowledge the power that Fish may harness by having Sharapova in his corner, especially following her recent retirement. "Now, I'm afraid they might take a little bit of our home court away with the sentimental favorite Sharapova after her announcement," Blake says, though the Bryans will also hang up their rackets at the end of this year. "That's three legends right there, and to see them retiring is the end of an era. It should be just a great celebration for really the three of them," he adds.
With such a packed roster, Blake says of his captaining duties, "My strategy when I've got a team full of stars is: Get out of the way and don't mess them up. I've got the Bryan Brothers, I've got Madison Keys — they know how to play the game, they know how to win, they know what's going to work best for them, so I'm just going to try to not mess them up, make sure to pick up the balls, get them their waters, and get them in the right frame of mind and that's about it, then let them go do what they do best."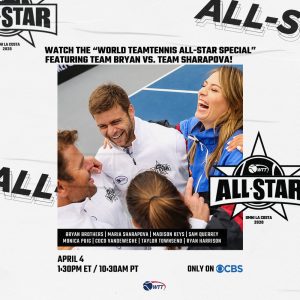 Though technically not the first All-Star event to be hosted by WTT, this new iteration is intended to be the first of what will become an annual event for the league, which was founded by a true tennis legend: Billie Jean King. "With the regular season [being] in the summer between Wimbledon and the US Open Series, I really wanted to try to kick the year off and bring attention to our great league, the great team format, and our great stars that we've got," says Carlos Silva, WTT CEO. "It seemed to me that there was no better way than to create an All-Star Weekend, so that's what we're doing at La Costa." He continues, "There were some all-star matches way back when, in the 70s. In fact, Rod Laver, Billie Jean [King], and Chris Evert played in one, but they were sort of here and there. So, this will become part of our calendar and part of what we do as World TeamTennis on a yearly basis."
The match will be shown on CBS on April 4th at 1:30 p.m. ET/10:30 a.m. PT.
The WTT regular season begins July 12 and will conclude August 1.
Don't Miss It!
What:  World TeamTennis Celebrity All-Star Special
When:  April 4 at 1:30 p.m. ET/10:30 a.m. PT
Where: Only on CBS!