The Chicago Smash Will Be WTT's Ninth Team and Play Home Matches at Credit Union 1 Arena at Univ. of Illinois at Chicago; Team Will Be Coached by Chicago Native Kamau Murray, Coach of 2017 U.S. Open Champion Sloane Stephens
RANCHO SANTA FE, Calif. – World TeamTennis has announced expansion to its ninth city, marking a return to the Windy City with the addition of the Chicago Smash for the 2020 season.
The Smash will play seven home matches during the league's 45th season this summer at the Credit Union 1 Arena (previously known as UIC Pavilion) on the campus of the University of Illinois at Chicago. Chicago native and Sloane Stephens' coach Kamau Murray of XS Tennis on the South Side of Chicago has been named the Smash's head coach. The team will be run by General Manager Jocelyn Davie, who spent last season launching the WTT's expansion team in Orlando, Fla.; the Orlando Storm.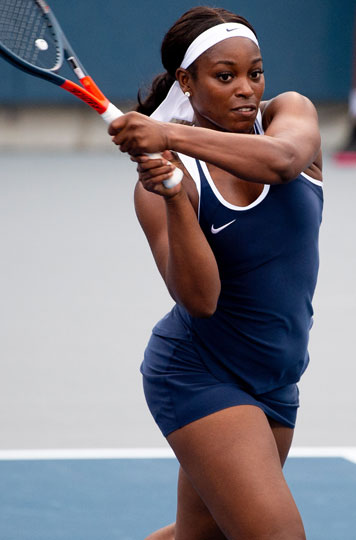 The Smash will open play on July 13 against new Midwest rival and two-time defending WTT Champion Springfield Lasers. The Smash will host its first home match the following evening, July 14, as it welcomes the Lasers to Credit Union 1 Arena.
"Chicago is one of the greatest sports towns in the country and has a huge tennis community," said Chicago Smash General Manager Jocelyn Davie, who grew up in Chicago. "The city is a great fit for World TeamTennis and I am thrilled to be bringing professional tennis back to my hometown."
Murray led Stephens to the 2017 US Open singles title. "It's something we've wanted to do for some time because we feel like Chicago is the perfect place for a World TeamTennis expansion team," Murray said. "You saw it during Laver Cup, Chicago's tennis loving community came out in huge numbers and supported that team event. We expect them to do the same this July."
A former top 3-ranked player in the world, Stephens will play select matches for the Smash this summer. The team has also signed Chicago native and current ATP World Tour player Evan King, a former All-American at the University of Michigan.
"Chicago is an amazing sports city and in a way it's become one of my second homes," Stephens said. "I can't wait to play for the Chicago Smash this summer alongside my teammates and my coach Kamau Murray who has very deep ties to the city Chicago. I hope to inspire the kids of Chicago and to help the community."
Chicago was named one of the league's eight charter franchises in 1973 and the Chicago Aces played their matches at the Lakeshore Racquet Club in Chicago in the league's inaugural 1974 season. The franchise was later rebranded as the Chicago Fyre in 1983. That year, league co-founder Billie Jean King led the franchise to its only league championship defeating the Los Angeles Strings in the WTT Championship. For 20-plus years Chicago was an integral stop on the women's WTA Virginia Slims Tour, as well as the ATP Tour on the men's side. In 2018, Chicago hosted the second edition of the popular Laver Cup team competition. For many years, WTT's main offices were headquartered in Chicago.
"We feel like Chicago is an important market for World TeamTennis and are excited to debut the new Smash franchise as our ninth team," WTT CEO Carlos Silva said. "With the team tennis format on the rise, and World TeamTennis at the forefront of its growing popularity, we look forward to returning to one of our original host franchise cities in a tennis-rich area like Chicago."
Chicago is World TeamTennis' third expansion franchise in the past year. The addition of the Orlando Storm and Vegas Rollers grew WTT from six to eight teams in 2019, also expanding to a four-team playoff in Las Vegas.
The WTT Playoffs return to Orleans Arena at The Orleans Hotel & Casino in Las Vegas, home to the Vegas Rollers, for the second consecutive year with the WTT's semifinals set for July 31 and the WTT Final hitting the court on Aug. 1. In 2020, WTT is increasing its prize money to a record $5 million and an added $1 million awarded in WTT Playoffs compensation, including a $500,000 bonus to the team that hoists the King Trophy on Aug. 1.
Last season featured several new broadcast media partnerships that helped net a television audience of more than two million viewers led by exclusive broadcast partner CBS Sports. ESPN+ provided online streaming viewership, as did video-sharing technology platform Dailymotion, which is available internationally in 24 countries and delivers over 250 million unique monthly users.
2020 CHICAGO SMASH SCHEDULE
All Chicago home matches will be played at Credit Union 1 Arena (previously known as UIC Pavilion) on the campus of the University of Illinois at Chicago:
July 13: Chicago at Springfield
July 14: Springfield at Chicago
July 15: San Diego at Chicago
July 16: Orange County at Chicago
July 17: Chicago at New York
July 18: Philadelphia at Chicago
July 20: Chicago at New York
July 21: Chicago at Orlando
July 22: Washington at Chicago
July 23: Chicago at Philadelphia
July 25: Orlando at Chicago
July 26: New York at Chicago
July 28: Chicago at Orlando
July 30: Chicago at Philadelphia
World TeamTennis: Every Point Counts!