WTT's 45th Season Begins July 12 and Ends with WTT Final on Aug. 1 At Orleans Arena In Las Vegas;
Two New Expansion Teams To Be Announced
CARLSBAD, Calif. (October 23, 2019) – A record amount of player prize money – including a new additional increase of $1 million for the postseason – will be at stake when the 45th World TeamTennis season hits the courts from July 12-Aug. 1, 2020, league officials have announced.
Video: Watch Complete 2019 Matches | Galleries: Check Out Photos From The 2019 Season
The prize money will increase to a staggering $5 million for the season, with the added $1 million awarded in WTT Playoffs compensation, including a $500,000 bonus to the team that hoists the King Trophy in 2020. The WTT Playoffs return to Orleans Arena at The Orleans Hotel & Casino in Las Vegas, home to the Vegas Rollers, for the second consecutive year with the WTT's semifinals set for July 31 and the WTT Final hitting the court on Aug. 1.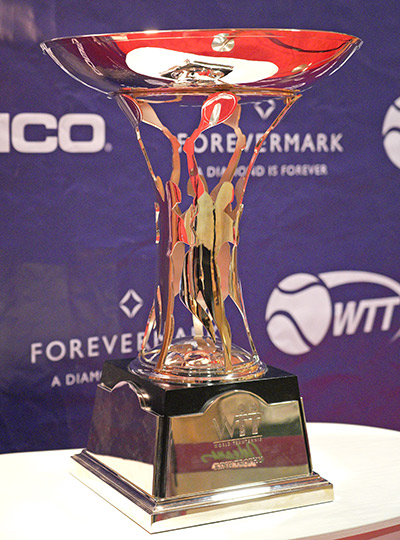 In addition to the prize money increase, World TeamTennis will be announcing two new franchises in the months ahead, boosting the league to a total of 10 teams.
"Last year was the biggest growth year in the league's history, and we believe the increase in $1 million additional playoff prize money will allow us to entice even more of the world's top ATP and WTA players to compete this summer in World TeamTennis," said WTT CEO Carlos Silva said. "It's no secret that the players love the team format of World TeamTennis and with two new expansion teams, we feel like 2020 is going to be our biggest year yet."
Last season featured several new broadcast media partnerships that helped net a television audience of more than two million viewers led by exclusive broadcast partner CBS Sports. ESPN+ provided online streaming viewership, as did video-sharing technology platform DailyMotion, which is available internationally in 24 countries and delivers over 250 million unique monthly users.
The Springfield Lasers repeated as WTT champions in 2019 as they rallied to complete a 20-19 comeback victory over the New York Empire, a fourth-year franchise and first-time playoff entrant. In 2019, World TeamTennis rolled out two new franchises with the addition of the Orlando Storm and Vegas Rollers, increasing the league size to eight teams.
WTT introduced professional team tennis to the world in 1974, with King famously serving as its co-founder. WTT is one of five active U.S. pro sports leagues which has been in operation for over 40 years, along with the NFL, NBA, NHL and MLB. For more information on World TeamTennis, please visit WTT.com.
Watch: Sweet Emotion of World TeamTennis