By Kenny Landis, Orlando Beat Writer
The City Beautiful is one of the fastest growing cities in the nation, so it is only fitting that Orlando was chosen as one of two cities to launch an expansion franchise as part of the 44th season of World TeamTennis.
The Orlando Storm will be led by coach Scott Lipsky in their first season. Lipsky has quite a full trophy case, as he is the holder of 16 ATP doubles titles and an NCAA team trophy from his time at Stanford. It will be his third season with World TeamTennis as he was with the Orange County Breakers in 2016 and 2018.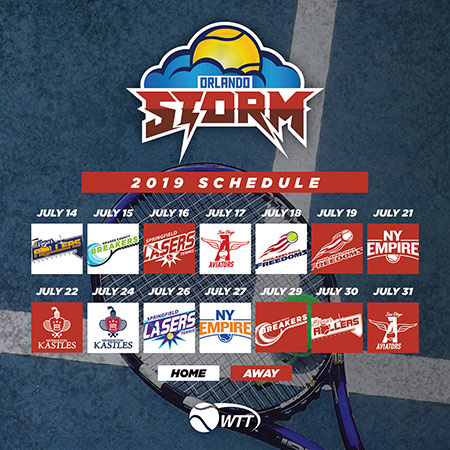 Looking to lead the Storm to the King Trophy is Madison Keys, who is looked upon as the franchise's star. Keys returns to WTT for her second season, but a lot has changed since her first campaign with the league. In 2009 she was a part of the Philadelphia Freedoms where she was the youngest player in WTT history at 14 years and five months old. Since then, she has achieved a career-high WTA singles ranking of No. 7 and was a singles finalist at the 2017 U.S. Open.
With their first pick in franchise history during the WTT Draft, the Storm selected Whitney Osuigwe who is 17 years old. At one point, Osuigwe was the No. 1 junior in the world. In 2017, she won the girls singles title at Roland Garros, the first American to accomplish the feat in 28 years.
WTT veteran Darija Jurak returns having five seasons already under her belt. Jurak won her first WTA Tour doubles title in 2014 and achieved a career-high WTA doubles ranking of No. 27 in 2017. She has won 38 ITF doubles titles and eight ITF singles titles to this point in her career.
Evan King, Ken Skupski and Feliciano Lopez round out the roster and will venture into their first seasons of WTT in 2019. Orlando acquired the rights to Skupski via a trade with the New York Empire. Skupski has reached a career-high ranking of No. 44 in doubles on the ATP tour. King joins the Storm as a three-time ATP Challenger doubles champion and boasts 28 ITF titles. Lopez now serves as the tournament director of the Mutua Madrid Open which he participated in from 2002-2018. At age 30, he removed soda, bread and dairy products from his diet.
With the Storm set to begin their first season, Orlando gets a new taste of tennis this summer. World TeamTennis consists of eight teams spread throughout the United States as they embark on a 14-match season from July 14-31 with the playoffs taking place from August 1-3.
The Storm will play their home matches at the USTA National Campus in Lake Nona, Florida. The venue is known as "The Home of American Tennis" and welcomes players and fans of all ages. Any level player, whether beginner or pro, can come and play on world class courts. The National Campus opened in 2017 and has been home to UCF men's and women's tennis teams ever since. It is essentially the sport of tennis' Walt Disney World.
A WTT match consists of five sets of no-ad scoring, with one set each of men's and women's singles, men's and women's doubles, and mixed doubles. The first team to reach five games wins each set. A nine-point tiebreaker is played if a set reaches four games all. One point is awarded for each game won and scoring is cumulative. If necessary, Extended Play and a Super Tiebreaker are played to determine the winner of the match.
The Storm begin their season with a two-match home stand. Their first match sees them square off against the other expansion franchise, the Vegas Rollers, on July 14 at 7 p.m. at the USTA National Campus. Orlando then faces the Orange County Breakers on July 15 at 7 p.m. Both matches will be televised on ESPN+ and WTT.tv.