By Victoria Chiesa, New York Empire Writer
With a new home court and a new head coach, the learning curve for New York Empire in 2019 in World TeamTennis had the potential to be steep.
With five of seven players on the roster familiar to the Empire, however, a union of something old and something new might be the perfect formula for a run at the King Trophy.
What's new starts at the top: Former French Open doubles champion Luke Jensen will lead the Empire in its fourth season of existence, as the team brings WTT to the Bronx for the first time in league history.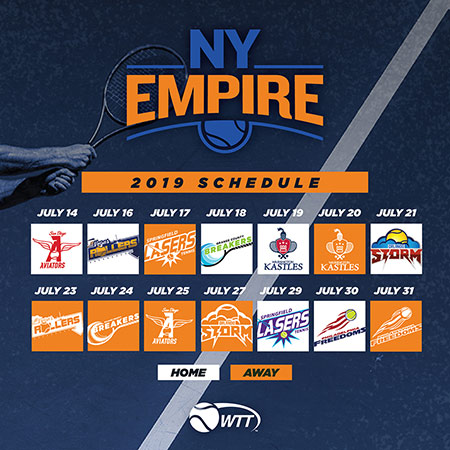 But on the court, a pair of Wimbledon semifinalists are back on the roster this season, as former ATP World No. 8 John Isner returns to New York for a third time on July 14, while Belgian Kirsten Flipkens — the No.1 overall draft pick this season — will play her second full season.
Flipkens reached the final four at the All-England Club in 2013 and has been ranked as high as World No. 13 on the WTA tour, and hopes to inject some life into a New York team which finished 2-12 last summer.
Two summers ago, the Belgian did just that: she led the way for a team which finished a half-game short of the WTT Championship match and third in the league standings, both franchise-bests.
"I'm very excited to come back to play WTT this year," said Flipkens.
"Of course to be a part of the Empire team is just great, as two years ago I was already part of
them. I'm looking forward to do the best I can for my team."
"I was very honored to be the first pick of the WTT draft this year. I'm most looking forward to the matches, and the team bond. I love to play for a team."
Neal Skupski of Great Britain, the lone player to be on the Empire roster in each of its four seasons of existence, and reigning WTT Female Rookie of the Year Maria Jose Martinez Sanchez of Spain, back for her second year, are the backbone of the Empire's doubles rotation.
"I'm super excited to be returning for my fourth season with the NY Empire," said Skupski.
"I always love this time of year competing in WTT. I enjoy the break for the ATP Tour and I can't wait to get started, especially having two new franchises in the league this year.
"Our new team is looking really strong throughout with experience and rookies, including our coach, Luke Jensen."
A former World No. 7 and Olympic silver medalist, Franchise player Mardy Fish will also return to New York for two matches at the end of the season on July 29 and 30.
Two fresh faces will also don the orange this summer: former US Open champion Sloane Stephens will make her Empire debut on July 16, in her fifth season of World TeamTennis, and American Ulises Blanch, a former junior World No. 2, will play his first season in the league.
"We wanted to pick a team of players who could play in this format, which is fast, furious and pressure-packed," said Jensen.
"We wanted to protect our veteran players, and we did that with [Kirsten] Flipkens. When you get the highest ranked WTA player available in the draft, you've got an anchor.
"To fill the rest of the roster with successful, veteran tour players and then to go young with Ulises is just really exciting. He's got a lot of firepower and he will learn from our other veteran players."
Despite a disappointing year overall last summer, in which the Empire went 0-9 to begin the season but won two of its last three matches, New York wipes the slate clean.
After spending its first three seasons in Queens, the Empire will play its home slate in a second NYC borough, at the Cary Leeds Center for Tennis and Learning in Crotona Park.
"It's always nice to play at a new venue and hopefully we can put on a good show for the fans so that they enjoy the experience and we can grow the sport of tennis and WTT at the same time," added Skupski.
"We will take one match at a time and not look too far ahead because we have done that in the past and come unstuck. I'm excited because our team looks really good, and I think the chemistry is going to be the best yet."