By Fred Sidhu, San Diego Aviators Writer 
After finishing in fourth place last year with a 7-7 record and falling short of the World TeamTennis Finals for the first time in three years, the San Diego Aviators are looking to make a strong rebound in 2019.
Coach John Lloyd, back for his fifth straight year at the helm for San Diego, will have Americans Amanda Anisimova, Taylor Fritz and Coco Vandeweghe as franchise players with the Aviators this season.
The 17-year-old Anisimova, who knocked off defending champion Simona Halep to reach the semifinals at this year's French Open, will play back-to-back home matches for the Aviators on Thursday, July 25 against the New York Empire and on Friday, July 26 versus the Orange County Breakers.
After playing matches for San Diego last year, Fritz and Vandeweghe, who have strong local ties, will return again this season to make appearances with the Aviators.
The 21-year-old Fritz captured his first career ATP Tour singles title this past June when he defeated fellow American Sam Querrey 6-3, 6-4 to win the Nature Valley International in Eastbourne, England. Fritz was born and raised in nearby Rancho Santa Fe, Calif., which is just a short lob away from the Aviators home venue at the Omni La Costa Resort & Spa.
During this past clay-court season, he posted solid results, scoring wins over ATP Tour stars Jo-Wilfried Tsonga of France, Grigor Dimitrov of Bulgaria, Roberto Bautista Agut of Spain and Argentina's Diego Schwartzman and Guido Pella.
Fritz is scheduled to play a highly-anticipated rematch against Querrey on Friday, July 19 in the Aviators home opener against the Vegas Rollers, one of WTT's new expansion teams this season. He will also be in the Aviators line-up on Saturday, July 20 in Newport Beach, Calif., against the Orange County Breakers.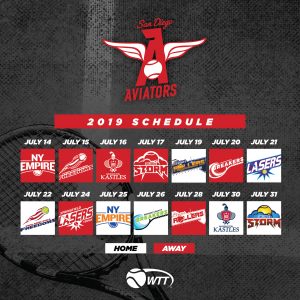 "It's pretty rare to have the opportunity to play a match in front of friends and family close to where I grew up," said Fritz, who also played for the Aviators in 2015. "I always enjoy playing World TeamTennis at La Costa. The atmosphere is great and the fan support we get at the matches makes it really special."
Vandeweghe, an Australian Open and US Open semifinalist in 2017, also grew up in Rancho Santa Fe where she is still a current resident. She will play for the Aviators in a home match on Monday, July 22 against the Philadelphia Freedoms.
Last season, Vandeweghe had a great time playing a home match with the Aviators in front of a vocal partisan crowd which included friends and family. Prior to the match, the local resident took time for a live courtside interview with a local television station.
"Playing World TeamTennis with the Aviators at La Costa is a really fun experience," said Vandeweghe, who reached a career high No. 10 in the WTA singles rankings in 2017. "I love being on a team and having your teammates cheering you on during a match makes it even more exciting."
The Aviators captured the King Trophy in 2016 and finished as Runner-Up in 2017, but if they are going to get back to the WTT Finals this season, they will have to get through a challenging season-opening four-match road trip to the East Coast.
San Diego will play four road matches in four days starting on Sunday, July 14 against the New York Empire.  Following matches against the Philadelphia Freedoms on Monday, July 15 and the Washington Kastles on Tuesday, July 16, the Aviators will close out the four-match road trip on Wednesday, July 17 versus the Orlando Storm, who also joined the league as an expansion team this season."It's never easy to start the season having to play four road matches in four days," Lloyd said. "This season opening road trip will definitely be tough for us, but we'll be well prepared and ready to play our best."
To help boost the line-up, the Aviators signed former French Open Doubles champion Ryan Harrison and fellow American Christina McHale to play in all four matches in the Aviators season opening road trip.
Fans will remember Harrison for playing a key role with the Aviators during the 2016 WTT season when San Diego took home the King Trophy with an impressive 25-14 victory over the Orange County Breakers at the historic Forest Hills Stadium at The West Side Tennis Club in New York.
McHale, who is Harrison's sister-in-law, achieved a career-high No. 24 in the Women's Tennis Association singles rankings in 2012. The 27-year-old from Englewood Cliffs, N.J., is a perfect fit for World TeamTennis, having representing the United States in Fed Cup and the Olympics earlier in her career.
Anna-Lena Groenefeld, the 34-year-old German who has won Mixed Doubles titles at Roland Garros and Wimbledon during her 16-year career on the women's tour, returns this year to play her second straight WTT season with the Aviators.
According to Lloyd, Groenefeld, who has won 17 career WTA doubles titles, will bring strength and experience in women's doubles and mixed doubles for San Diego this season.
The Aviators have also added Jonny O'Mara of Great Britain, Darian King of Barbados and Arina Rodionova, a Russian-born Australian, to their 2019 roster.
O'Mara, a native of Scotland, will be making his WTT debut this season. Earlier this year, he achieved a career-high No. 44 in the ATP Tour doubles rankings. The 24-year-old doubles specialist, who owns two career ATP Tour doubles titles, will add depth to the Aviators line-up in men's doubles and mixed doubles.
King will be competing in his third season of World TeamTennis after playing with the Philadelphia Freedoms in 2017 and the Orange County Breakers last year. The 27-year-old King, who has been ranked as high as No. 106 in the ATP Tour singles rankings, has spent most of the year playing on the ATP Challenger Tour.
The Aviators will hope to capitalize on Rodionova's wealth of WTT experience. The 29-year-old native of Tambov, Russia, played for the Washington Kastles from 2011 through 2015. She was named Female Rookie of the Year in 2011 and helped the Kastles capture the King Trophy in 2011 and 2012.
As the 2019 WTT season opens this July, the Omni La Costa Resort & Spa will be the place to be for San Diego tennis fans as the Aviators begin their quest to win the King Trophy.