By W.G. Ramirez, Vegas Rollers Writer

What happens in Vegas, is working.
Professional sports have had an amazing effect on the Entertainment Capital of the World, which is about to be introduced to one of the most exciting brands in tennis.
World TeamTennis (WTT) will embark on its 44th season with arguably its deepest lineup of tennis stars since its inception, including an impressive roster on one of the league's two newest franchises, the Vegas Rollers, led by Bob and Mike Bryan, the most decorated doubles team in tennis history.
Former all-American collegiate player Tim Blenkiron, a UNLV tennis alum who was part of the 2017 NCAA doubles championship team, will coach the Rollers.
And Blenkiron is confident the Rollers will have an immediate impact.
"My expectation is to win the King Trophy," Blenkiron said. "I don't go into anything not trying to win it. We were able to get a good team. We have some key players. We've got a team to go deep."
Along with the Bryan brothers, Blenkiron also sees the emergence of Sam Querrey, Aussie doubles specialist Matt Reid, Evan Song, 2016 Olympic gold medalist Monica Puig, Harriet Dart and Las Vegas' own Asia Muhammad in leading the team in its inaugural season.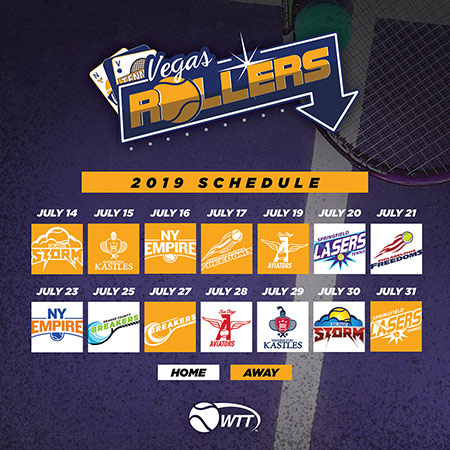 "We have a great team, I don't see why we can't do really, really well," Muhammad said. "A lot of us are really excited to be on a team."
Excited, because currently there aren't many professional athletes who don't want to play in Las Vegas.
Muhammad said Vegas is a perfect place for tennis and believes WTT's format will attract plenty o
f fans because of its fast-paced style and easy to watch format.
Muhammad said she knows and is familiar with her teammates and believes everyone will get along and support one another exceptionally.
"It's so exciting and I hope we do well, and I hope it stays here," Muhammad said. "Our schedule is really good, and just knowing when we play in Vegas I can stay at home, be with my family, my dogs – and they can come watch. It's different playing here, but I should know a lot of the people coming. I know how supportive they are and they back me, so it's pretty special to play at home. That makes me really, really pumped."
Since the success of the NHL's Vegas Golden Knights, the town has seen the arrival of the WNBA's Las Vegas Aces and the announcement the NFL's Oakland Raiders will relocate in 2020. UFC and top-ranked boxing have been holding promotions there for decades, and the NBA Summer League recently concluded another successful campaign.
Blenkiron said while some had concerns there might be competition for the entertainment dollar in Las Vegas, the owners were never fazed. They wanted a team in town and were confident from the start.
"I think they like the city and they believe in the city, maybe even more so than the locals," Blenkiron said. "There's eight teams, and to represent Las Vegas, for anyone, is very, very cool. It's one of the reasons I came to UNLV. Coming from Australia couldn't name five major cities in America. But Las Vegas was one of them. I absolutely love Las Vegas."
Which is why he's never left since arriving at 17 years old to play for UNLV.
"For most players and most people in the country, they're big fans of Las Vegas, I think we have a great reputation here for fun and entertainment and I think that's an advantage I have over the other teams actually," Blenkiron said. "I'm a tennis fanatic at the end of the day and I love the game. This mixture of tennis and entertainment is gonna be unbelievable. I love Las Vegas and I want to see 'em do really, really well. To be representing Las Vegas – I want to win the cup. Now, that's easier said than done, but that is certainly my goal."