By Eddie Levin, Philadelphia Freedoms Writer
The Philadelphia Freedoms will begin the 44th season of World TeamTennis the same way they have done the past two years – on the road.
On July 14, the defending WTT finalists travel to Springfield to battle with the Lasers, whom they fell to in last year's championship match.
Returning from last year's team that went 12-2 is Taylor Townsend, Fabrice Martin and Raquel Atawo. Townsend and Martin proved to be a big spark teaming together in mixed doubles that would be a vital reason why Philadelphia advanced to the finals.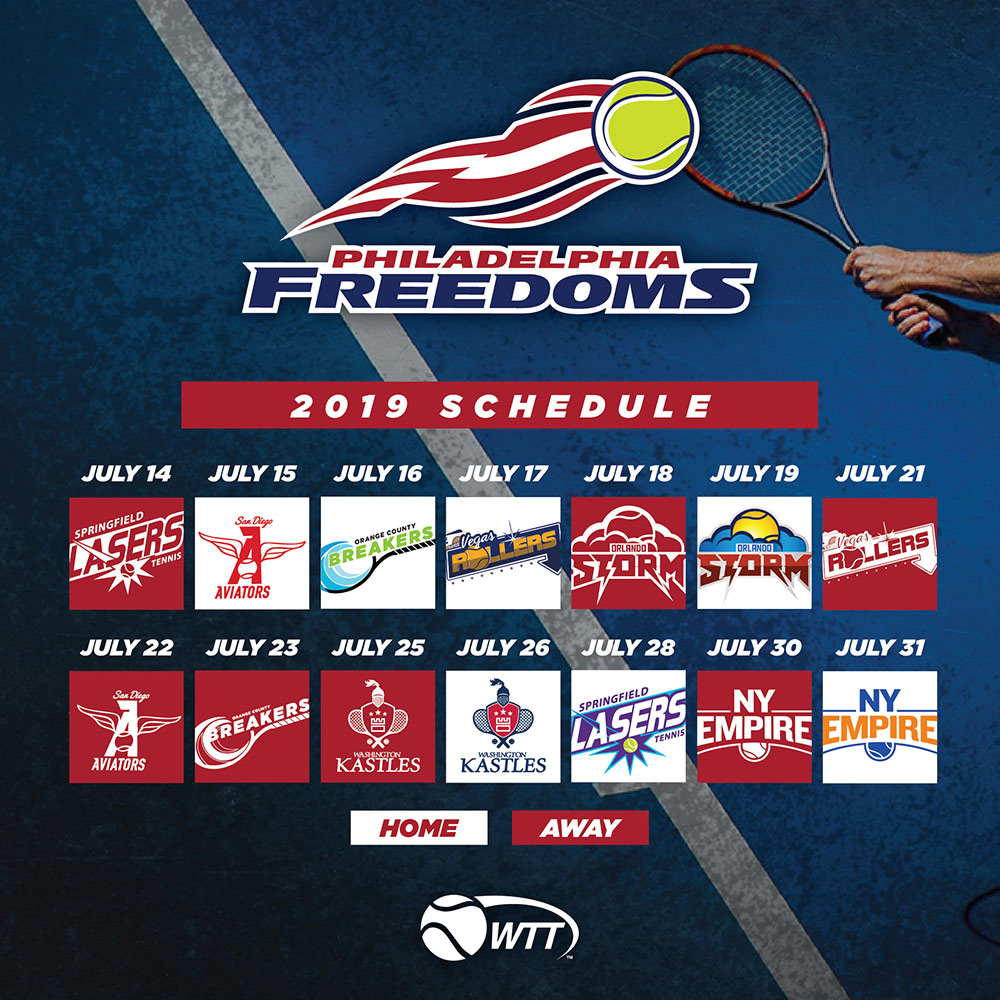 "Taylor and Fabrice understand they are the leaders of the team," said Coach Craig Kardon "They are crucial for feedback and guidance throughout the season. They know what to expect. They want to win for the team and have fun competing together."
"Even with three returning players, Taylor, Fabrice and Raquel it's always a new year," added Kardon. "Because we shared a few years together and last year's success, I'm very excited to motivate them to get better."
Joining Taylor, Fabrice and Raquel this year will be WTT newcomer Adrian Menendez-Maceiras along with Donald Young, who will be making his second appearance with the Freedoms, and Danielle Collins. Young, and had a career-high ranking of #38 in singles in 2012 and #43 in doubles in 2018, will join the team for the July 16, July 17 and July 18 matches while Collins, the #34th ranked singles player of the WTA Tour will play the match on July 21.
With the season just days away, Kardon knows the importance of a quick start and believes his veteran leaders, Taylor and Fabrice will provide the leadership needed for success and will also help the younger players adjust to the difference between the regular tour and WTT.
Prior to taking the court, the returning players have to be reminded of the differences while the new players have to learn.
A World TeamTennis match consists of five sets of no-ad scoring, with one set each of men's and women's singles, men's and women's doubles, and mixed doubles. The first team to reach five games wins each set. A nine-point tiebreaker is played if a set reaches four games all. One point is awarded for each game won and scoring is cumulative. If necessary, Extended Play and a Supertiebreaker are played to determine the winner of the match.
"The great thing about WTT is we all have equal roles," said Kardon. "Having the opportunity to compete together in an individual sport for a team is something very special. I like having a blend of returning players and new players. It's nice to share their experience playing WTT for the first time. It makes my job FUN."